20 Best UI/UX Online Design Communities to Join: Discord, Slack...
Communicating on social media is now all the rage as social networks become more and more prevalent. You can even easily exchange design ideas on communities that are exclusive to UI/UX designers!
However, the features and usage vary from different sites and channels. What are there and Which social media community is the best choice for designers? Why is it important to join?
In this article, we have curated the 20 best UI/UX design communities including a brief introduction, features, and a list of must-followed designers. Bet you can find one that meets your needs!
Before starting, Let's take a peek at the 4 benefits the design communities brings you!
---
Why is community important for designers?
1. Share your design to land on job opportunities:
Although great works require talent, it needs an opportunity to be seen. And finding work in the UX industry can be a little daunting. Via social networking, you can increase the exposure of your works and even get the opportunity to be seen by well-known manufacturers.
2. Exchange of experience:
Experience is a master teacher, even when it's not our own. You may sometimes get a brand new idea after watching an interview with a famous designer. Thus it can be seen that exchanging experiences with others not only can make you get inspired, but helps you create a greater work.
3. Expand your network:
Whenever you are up against the wall in UI/UX design, the first thing you will do is to ask others who have the same experience for help aka UI/UX designers. Only they can understand your problems and know how to deal with them. Thus, the importance of building your design social network might help you establish authority in your career and even find you a lifetime mentor!
4. Looking for inspirations:
Even if you can get inspired by everything in your daily life, you must want to have a place to help you get inspiration faster. In the design social media community, you can browse plenty of UI/UX excellent works from designers you follow every day. Maybe one of them is the one that inspires you to create a masterpiece for your next project!
Related articles:
43 Best Websites Designers Love for Finding Design inspirations

---
Before using a design community, here's an amazing management tool for you to organize UI/UX assets in one place — Eagle app.
Eagle App — All In One UI/UX Design Asset Organizer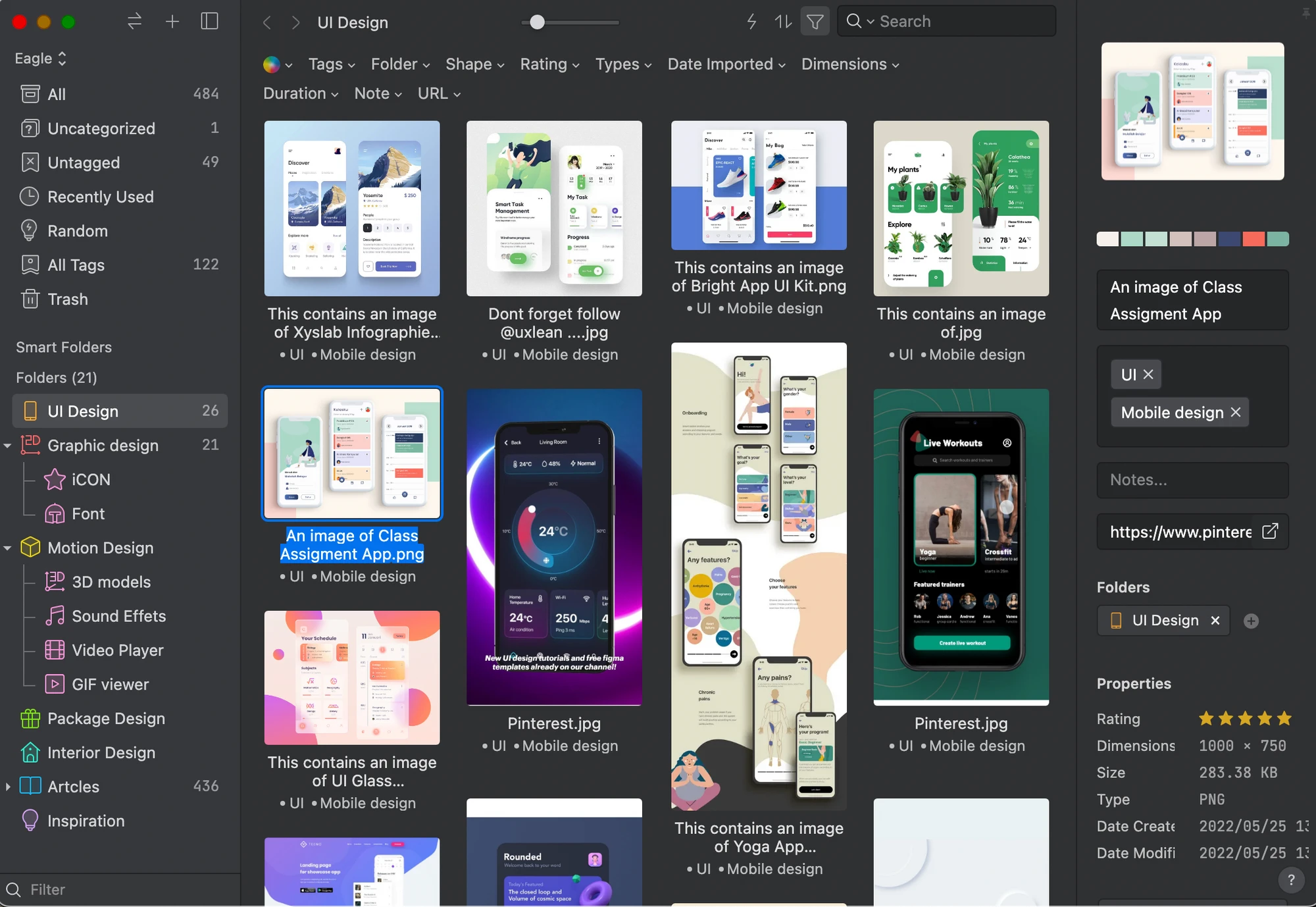 Image from Eagle

Want a more efficient way to manage UI/UX design assets? Eagle can do it!
As a powerful desktop organizing tool, Eagle can help you arrange all your digital assets like images, videos, audio file, fonts, icons, 3D, and RAW.
Thus, whether it is a mobile design, web design, or even your wireframe files, can stay organized in one place by adding tags, ratings, comments, etc.
Its astonishing search filter makes it easy to find the files you need in seconds, and you can simply save batch image references from the web by using Eagle's extension.
Eagle can help you be more productive by streamlining your whole workflow!
Learn more!
How to Organize your UX/UI Design Assets and Inspirations Files

---
Top 20 UI/UX Design Communities You Should Follow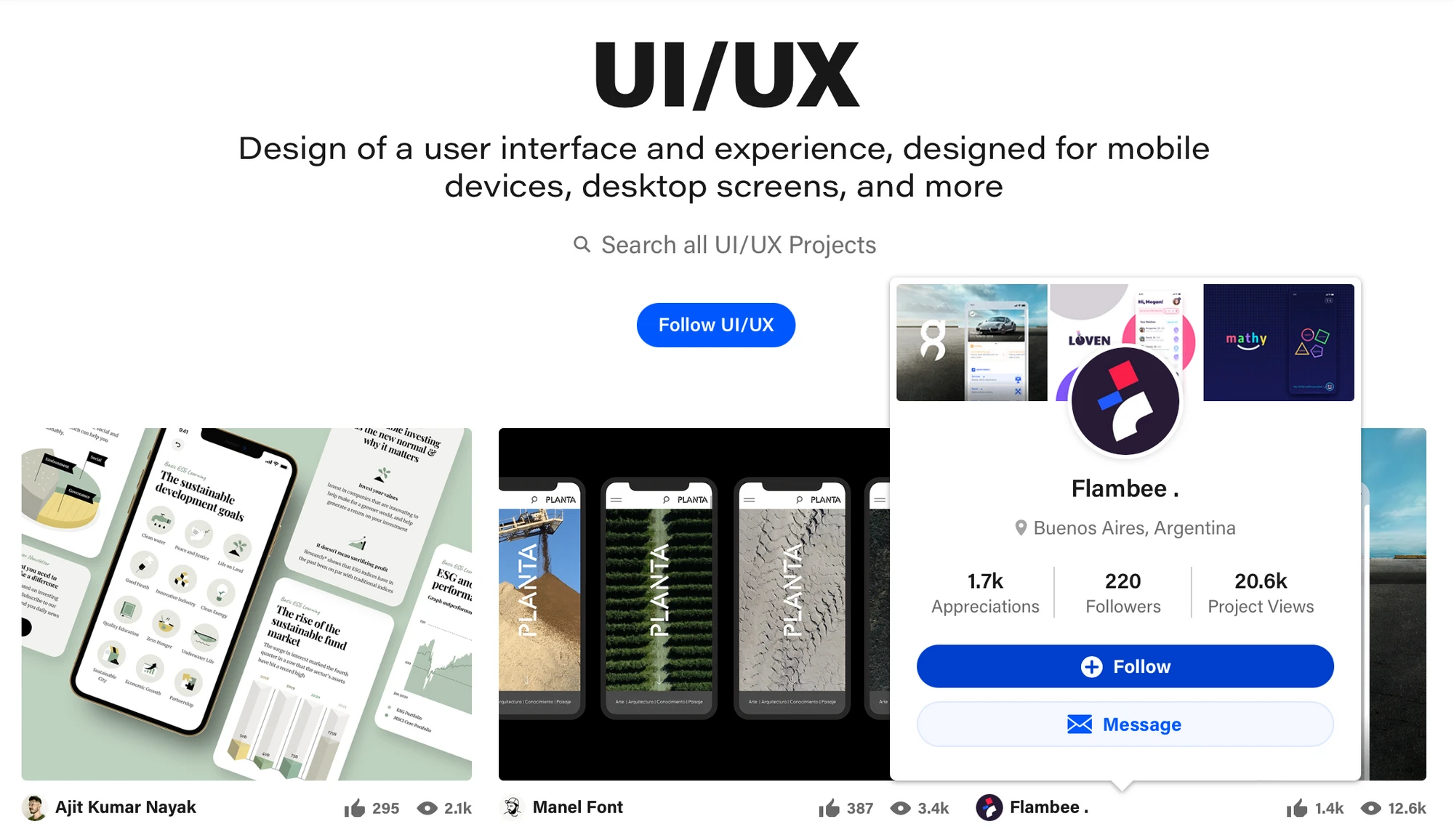 Image from Behance

Behance is a world-renowned design social media community, where creative designers can showcase their portfolio and discover creative works shared by others. It'll give you new ideas every day from a variety of fields, including UI/UX design, illustration, typography, etc. What's more, it is a place for companies to discover talented designers.
Features:
Works sharing
Using as a design portfolio
Showcasing creative skills and previous projects
Providing a large number of great works from other designers
For extensive case studies and more in-depth information about your work
Designers you should follow: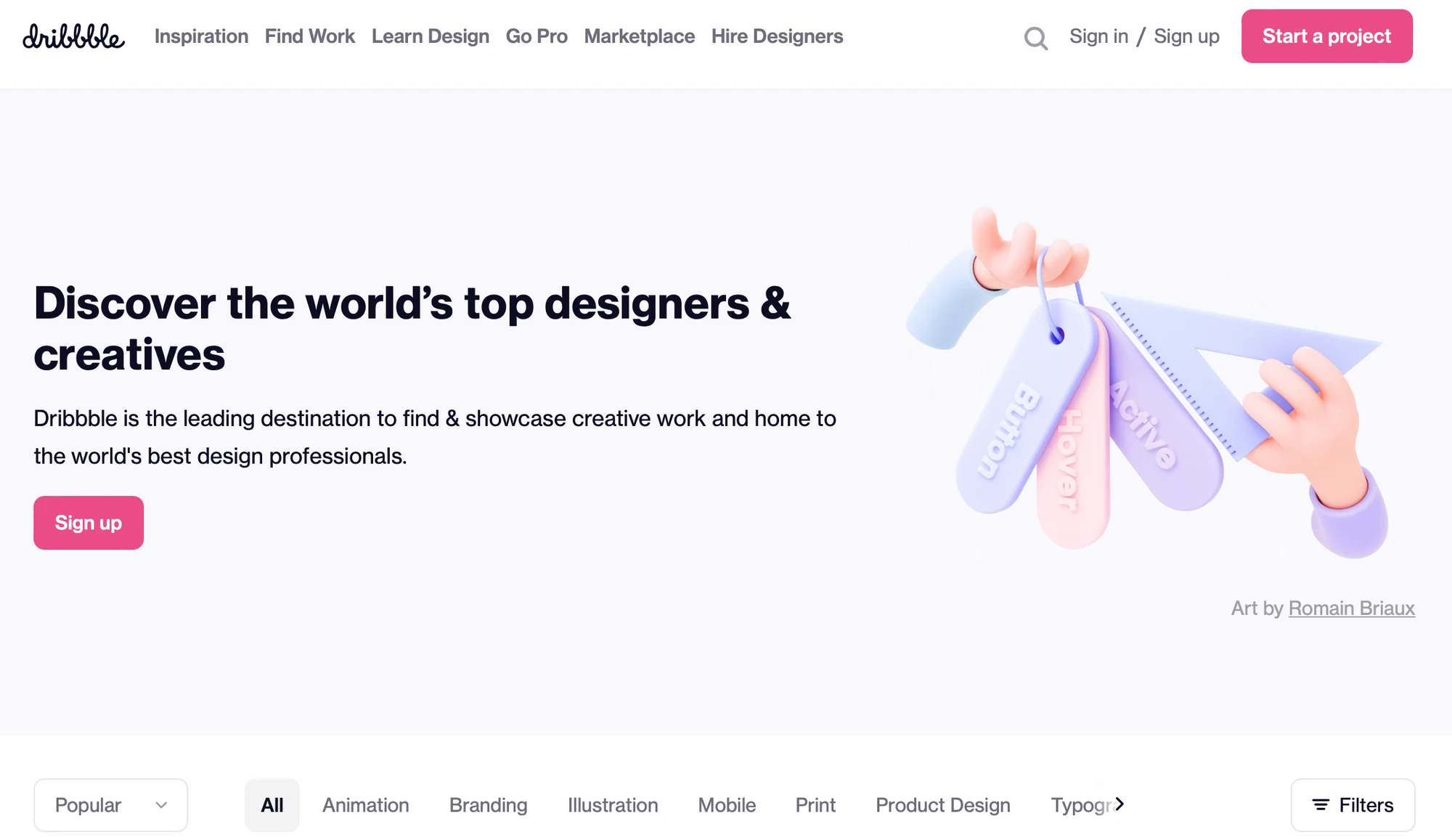 Image from Dribbble

Dribbble is a world-class social media channel for designers. You can regard it as Facebook in the design field. Designers from all over the world will upload their works on it, including graphic, animation, UI, Web, and illustration. What's even better is that Dribbble is no longer an invitation-only system, you can now easily apply for an account and upload your work to the platform.
Features:
Works sharing
Used as a design portfolio
Heavy focus on UI design and visual design
Finding jobs or recruiting talented designers
A great place to go for inspiration and community
Designers you should follow:
Related articles: 4 Tips on How to Find & Organize Inspiration Ideas for Designers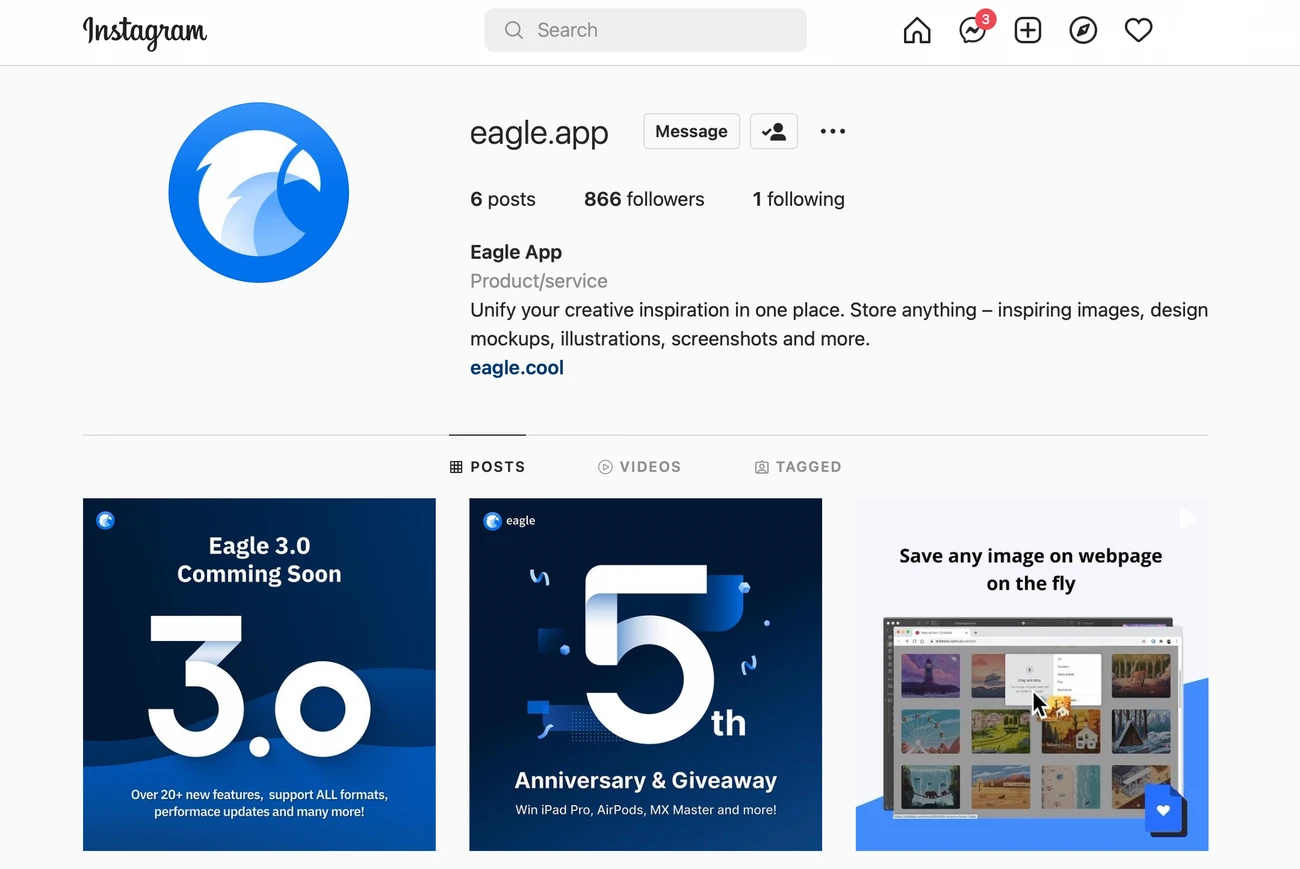 Image from Instagram

Instagram is a worldwide social network for image and video sharing, giving insights into what others are up to on its feed. Each post on it can be edited with filters and organized by hashtags, which can let you quickly find a post in a particular category. Moreover, designing your own typesetting is also an interesting thing that you absolutely can't miss!
Features:
Filter applying
Customized typesetting
A fantastic visual platform for designers.
Various hashtags to organize posts with different categories.
A 'stories' feature with each post accessible by others for 24 hours each.
Designers you should follow: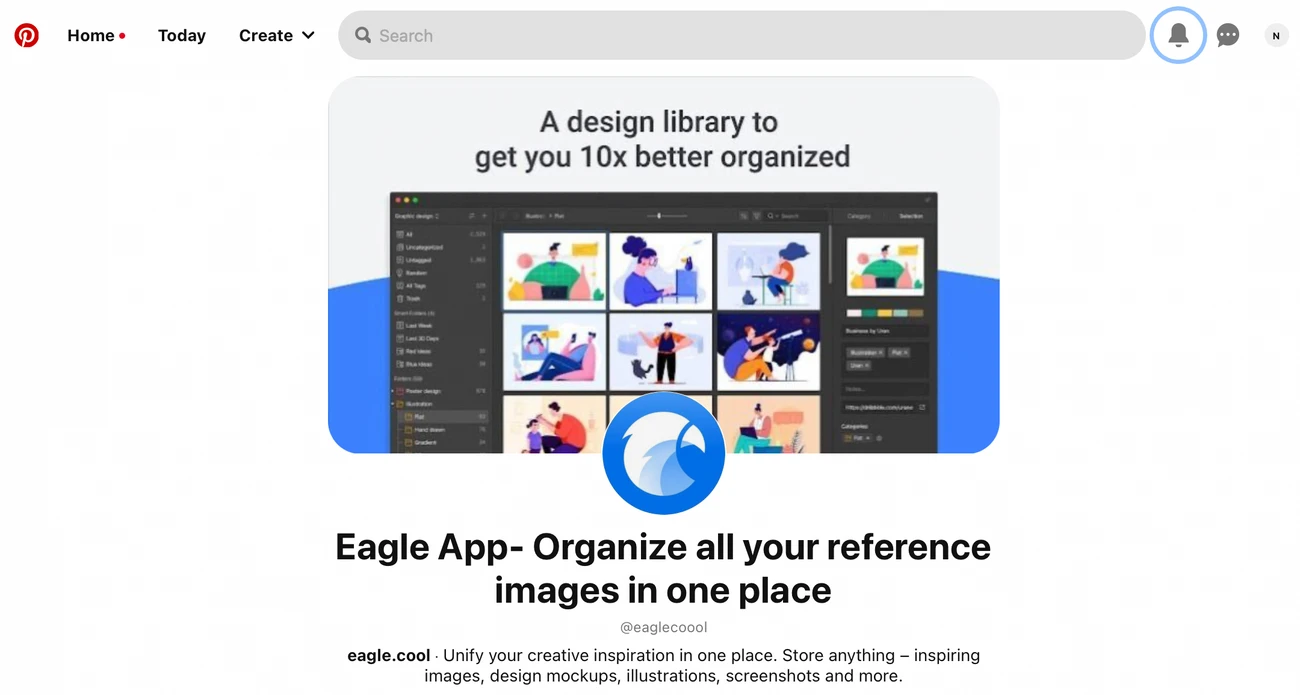 Image from Pinterest

Pinterest is like a virtual bulletin board, where you literally pin anything of interest. With the goal of providing users with inspiration, creativity, and ideas, Pinterest has become a well-known social media service for work-sharing in the form of images, videos, and animated GIFs. Feel free to use the hashtag as well, in order to let others find your valuable information quickly and efficiently.
Features:
Hashtags
Work sharing
Sending "pins" to friends.
Making a secret board to plan surprise events
Using filters to narrow down recipe search results
Using the app's visual search feature to find and even buy specific items
Best Pinterest Boards you should follow:
---
Eagle App— Easily Capture All Your UI/UX Inspiration

See a great reference image but don't know how to store it? Try Eagle!

Quick drag-and-drop to collect images
Store images with just one click
Batch save image references at once
Capture the whole page as your UI inspiration

With all of the above functions, Eagle's here for you to become more efficient!



---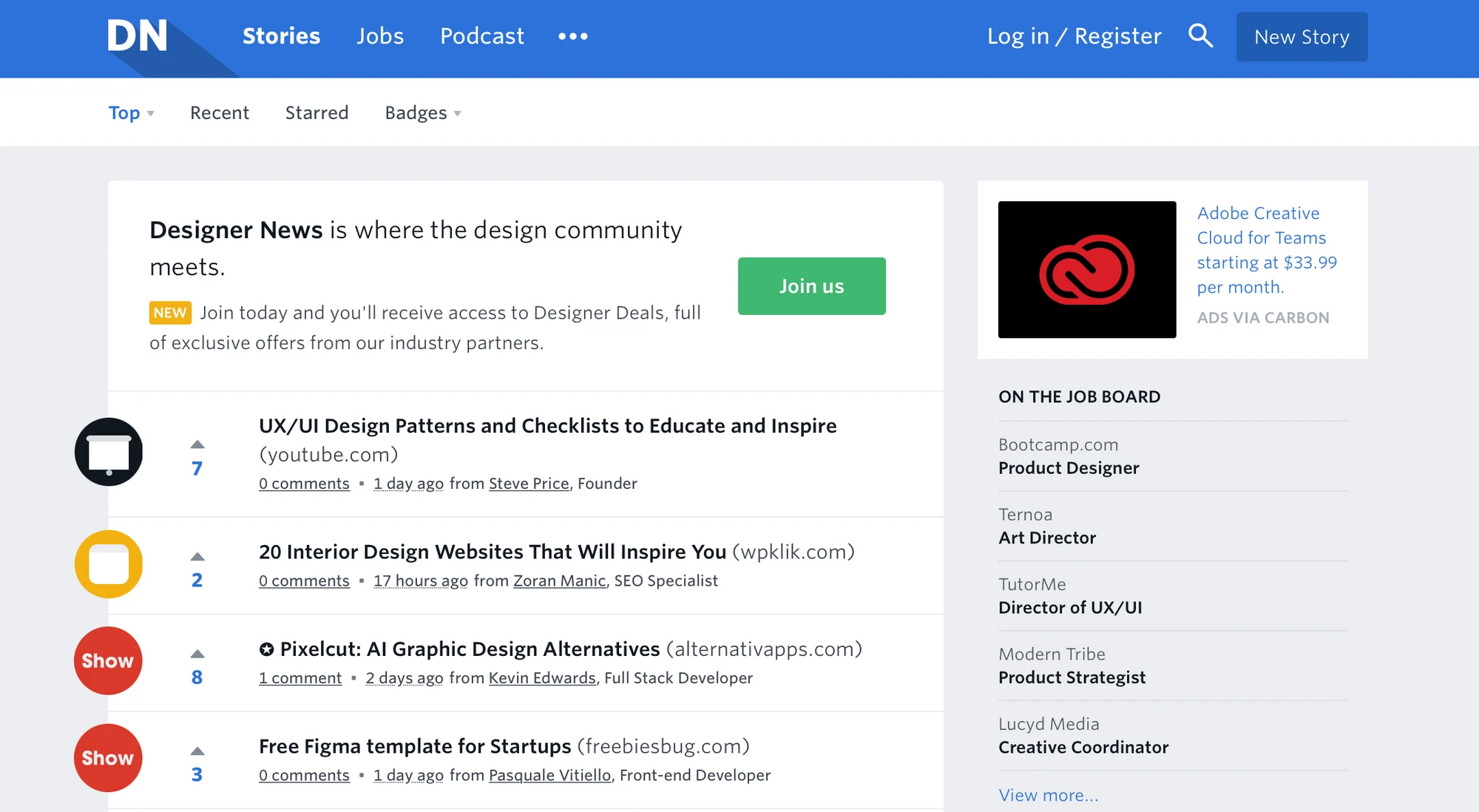 Image from DesignerNews

If you want to get a better perspective at knowing the latest design news? Try DN!
DesignerNews is a platform to share and discuss all the interesting things about UI design with a like-minded community, starting as an invitation-only community and letting the community decide the most "designer-friendly content" by voting on stories.
Features:
Latest news for design
Podcast including a variety of categories
A place for designers or developers to find jobs, or post a job vacancy.
Exchanging thoughts or sharing your comments on specific topics.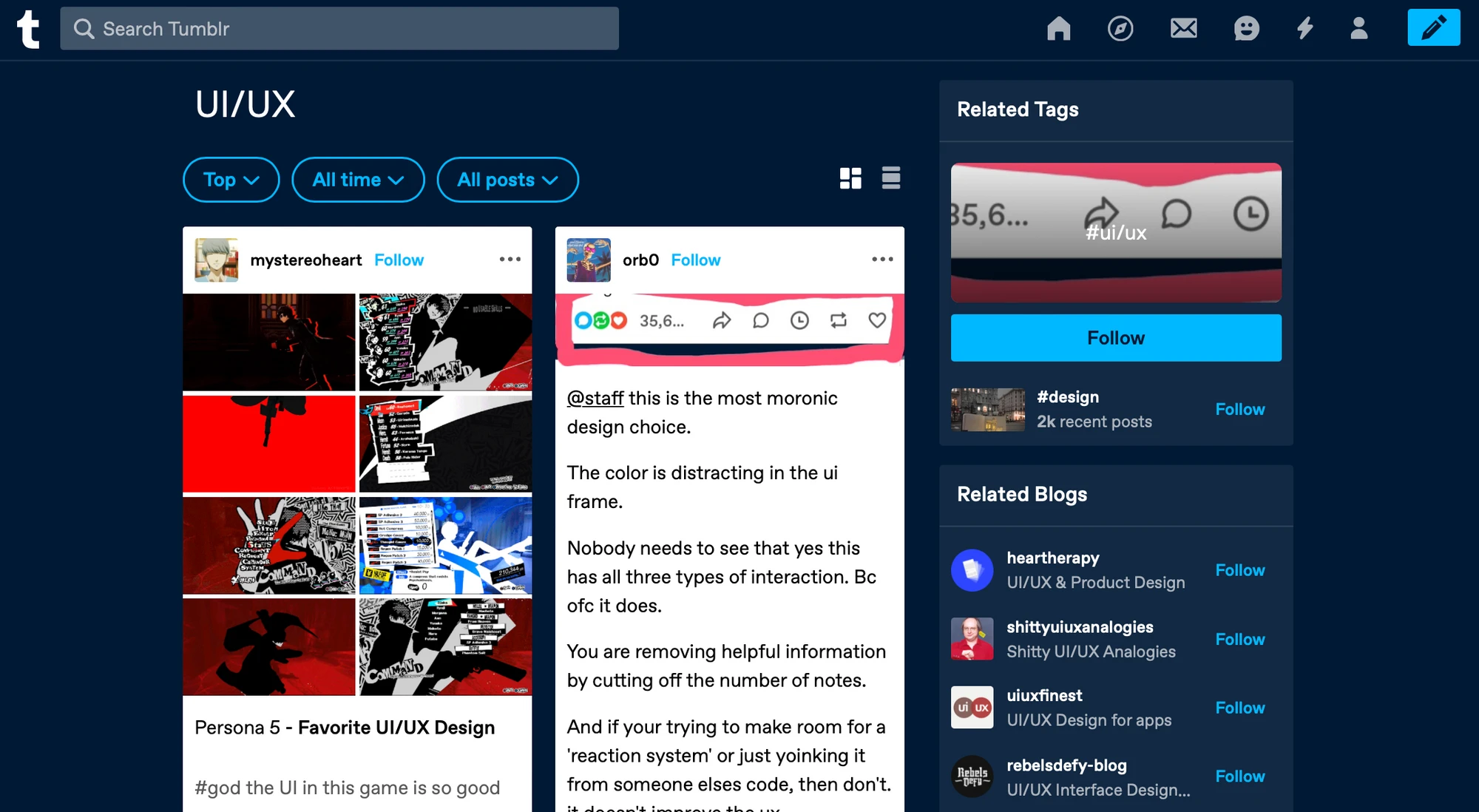 Image from Tumblr

Tumblr is a blogging and social media tool that allows users to publish a "tumblelog", or short blog posts. The major differentiator of Tumblr is the ability of users to heavily customize your own pages. Notably, you can also use "tip jar" to gift a little something to support your favorite content creators. In this way, creatives can make a little money from their work, while supporters can tip posts they love in fun.
Features:
Tip jar
Customized user's page
Plentiful kinds of topics resources
"Tumblr Directory" allows users to promptly find a blog they're interested in.
The formats of posts include Text, Photo, Quote, Link, Chat, Audio, and Video.
Designers you should follow: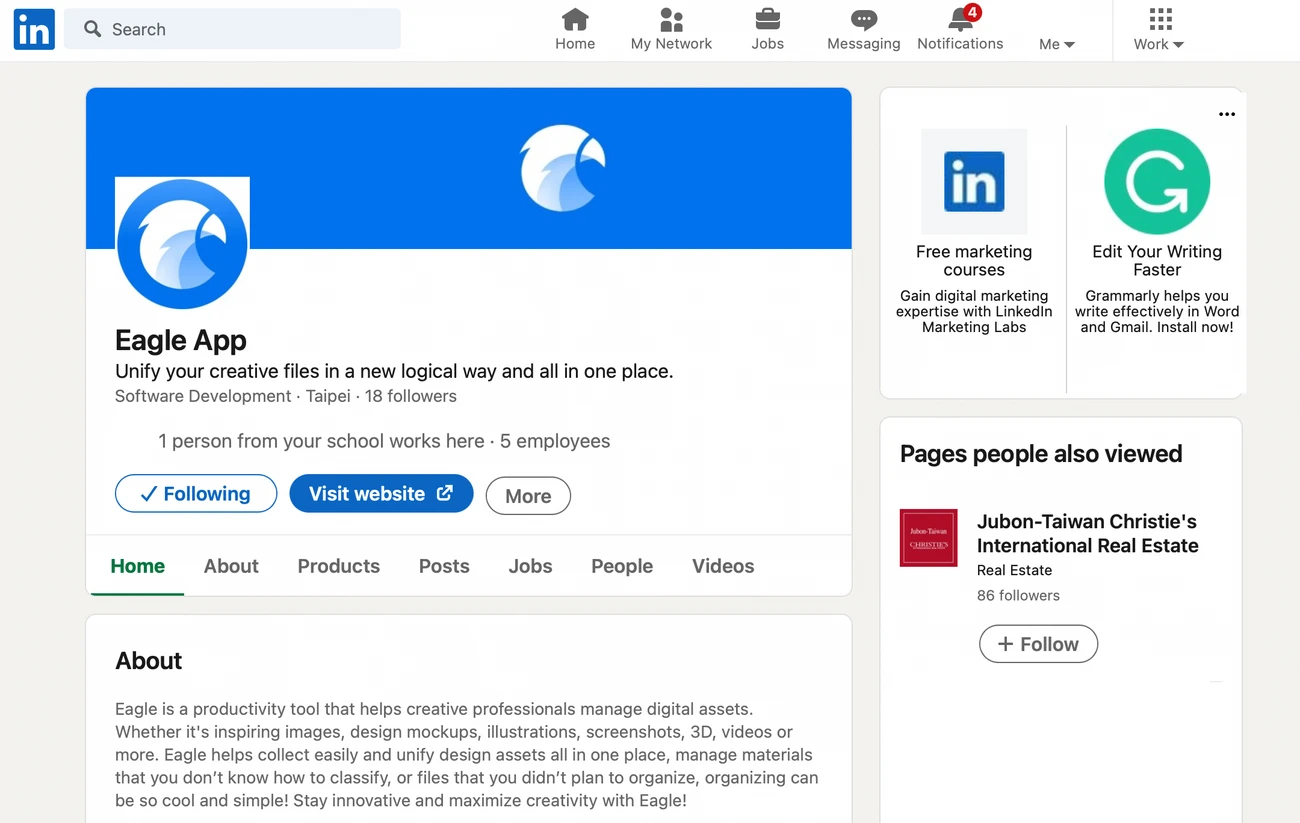 Image from LinkedIn

As the world's largest professional network, LinkedIn can efficiently help you find jobs, internships, connect and strengthen professional relationships, and even learn skills in UI/UX design. On top of that, reaching more potential clients with an eye-catching portfolio is widely loved among designers.
Features:
Job finding and recruiting.
Reaching potential clients.
A place to display your portfolio.
Expanding your network in the design field.
Paid tutorials ranging from Business, Technology to Creatives.
Best Linkedin groups you should follow: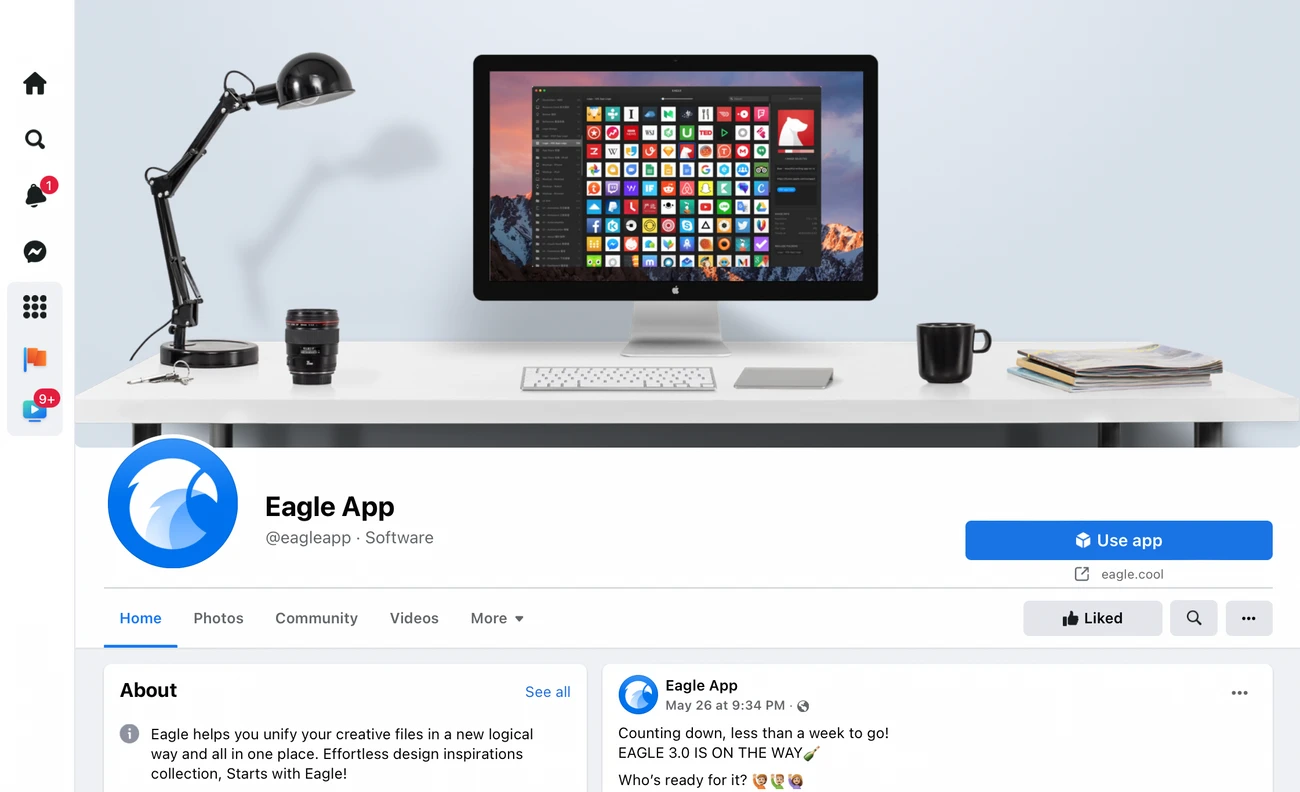 Image from FaceBook

When it comes to social media, Facebook is definitely the first one that comes to your mind. As the most popular social networking site, FB is also a place where designers are into setting up their personal web pages, sharing their works, experience, and daily life. If you are up for interacting with a specific topic, joining a group is also a great choice for you!
Features:
Creating posts in the form of text, image, video.
Join groups with members having the same ideas or interests.
Interacting with others by thumbing up, commenting, or sharing the posts
Creating a fan page to share your works, design experience, and any other practical pieces of information.
Best FB design groups you should follow:
Eagle — Keep All Your Digital Assets Organized with Tags

Have trouble managing tons of digital assets from different design communities? Whether it is image, text, bookmark, or even a tutorial video, you can easily add a tag or use auto-tagging to quickly identify which community your saved files are from!

Give Eagle a Try!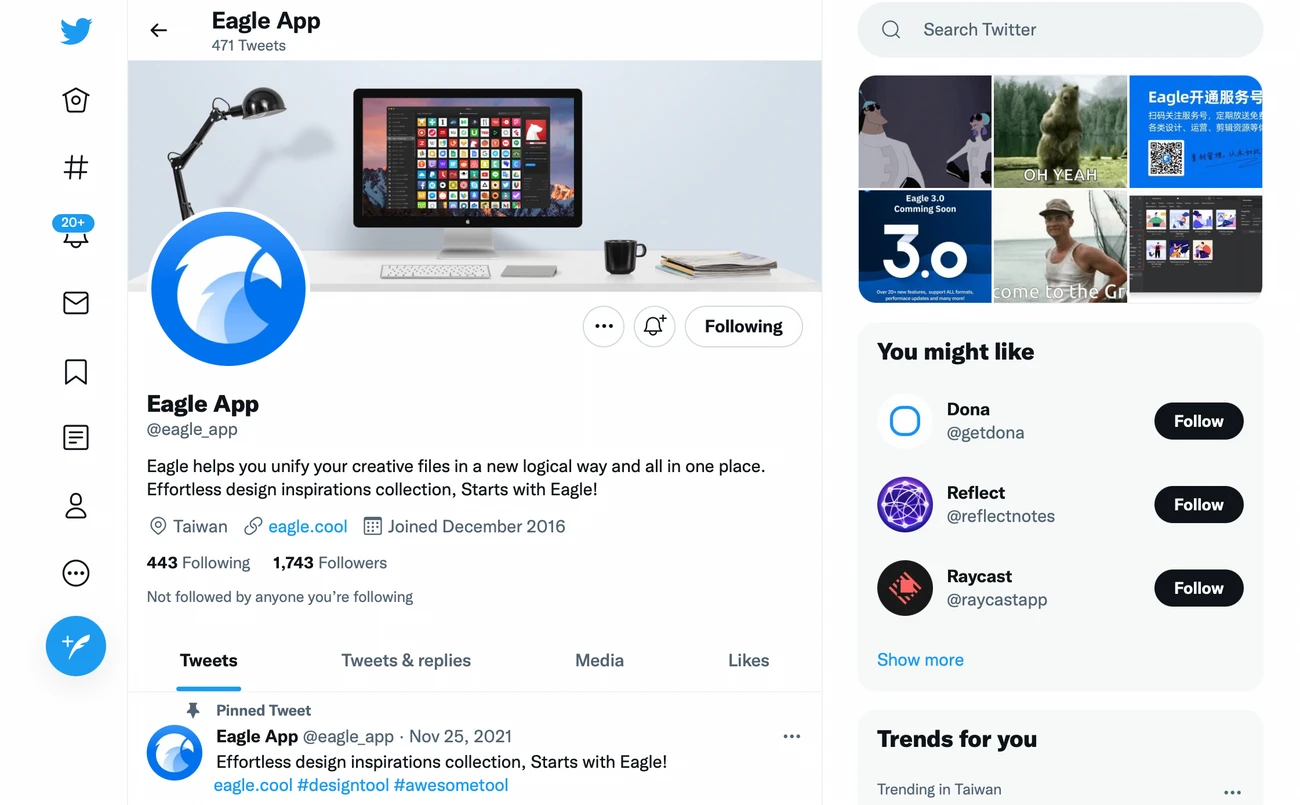 Image from Twitter

Twitter is social media, but it's more than instant messaging. Twitter is about discovering excellent designers around the world or building a following of people who are interested in you and your works and then providing followers with some knowledge value every day.
Features:
Retweeting other people's content.
Subscribing to relevant Twitter lists.
The text content of a Tweet can contain up to 280 characters.
Communicating with people and subjects that are relevant to you.
Use a hashtag to promote your works or rapidly find a specific topic.
Designers you should follow: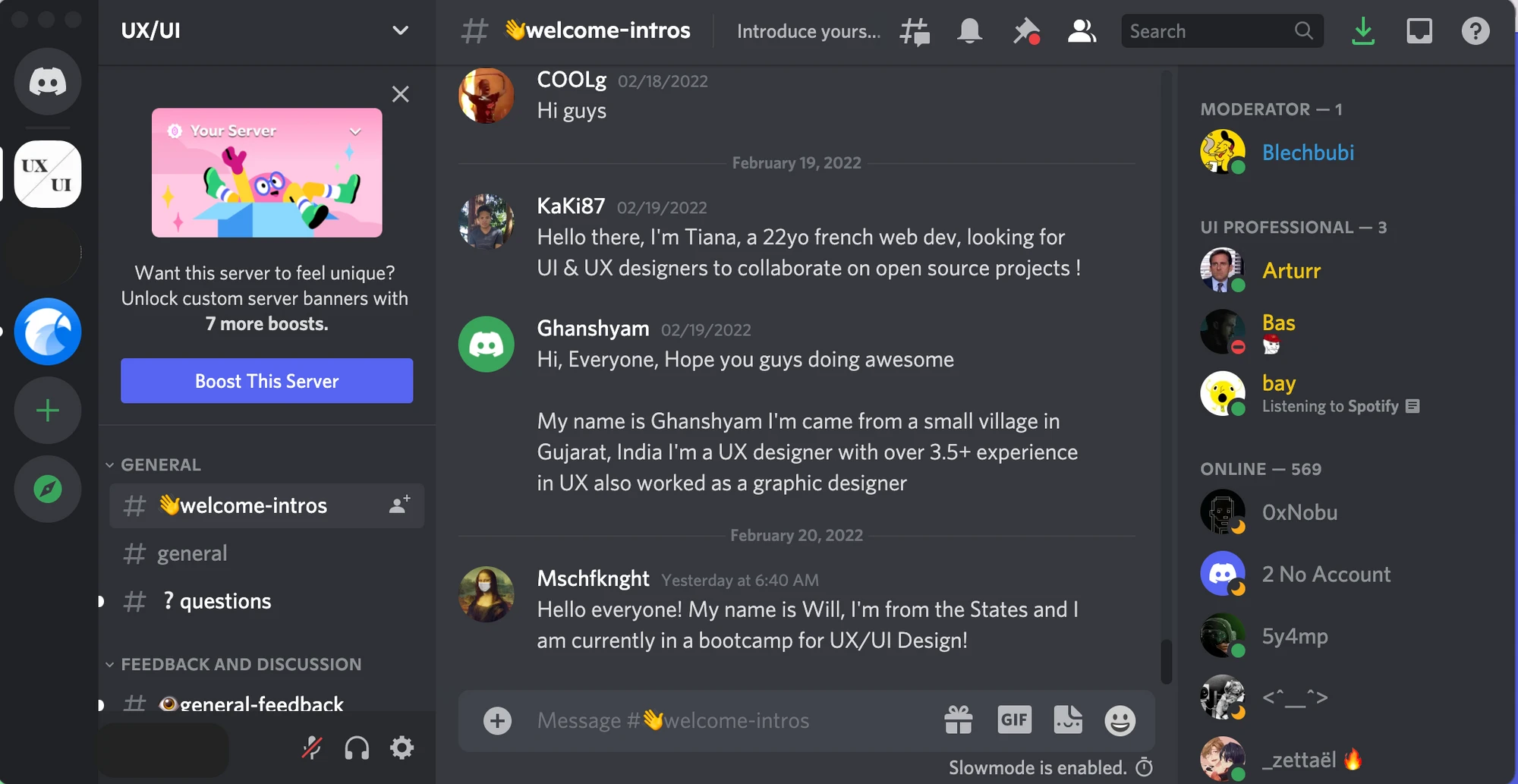 Image from Discord

Discord is a communication application that is made on the idea of guilds which are called "servers", initially for gamers to connect and play along and for joining gaming communities. However, Discord has changed a lot so that you can now use it as a concept of "group", giving you a place to discuss a particular theme, share resources and experiences. Let's get the ball rolling on using Discord!
Features:
Several servers allowed users to interact in the form of text and voice.
Channels are used for voice chat and streaming or for instant messaging and file sharing.
Allowed to connect various external platforms to a personal account, including Steam, Reddit, Twitch, Twitter, Spotify, Xbox, PlayStation, and so on.
Server recommendations: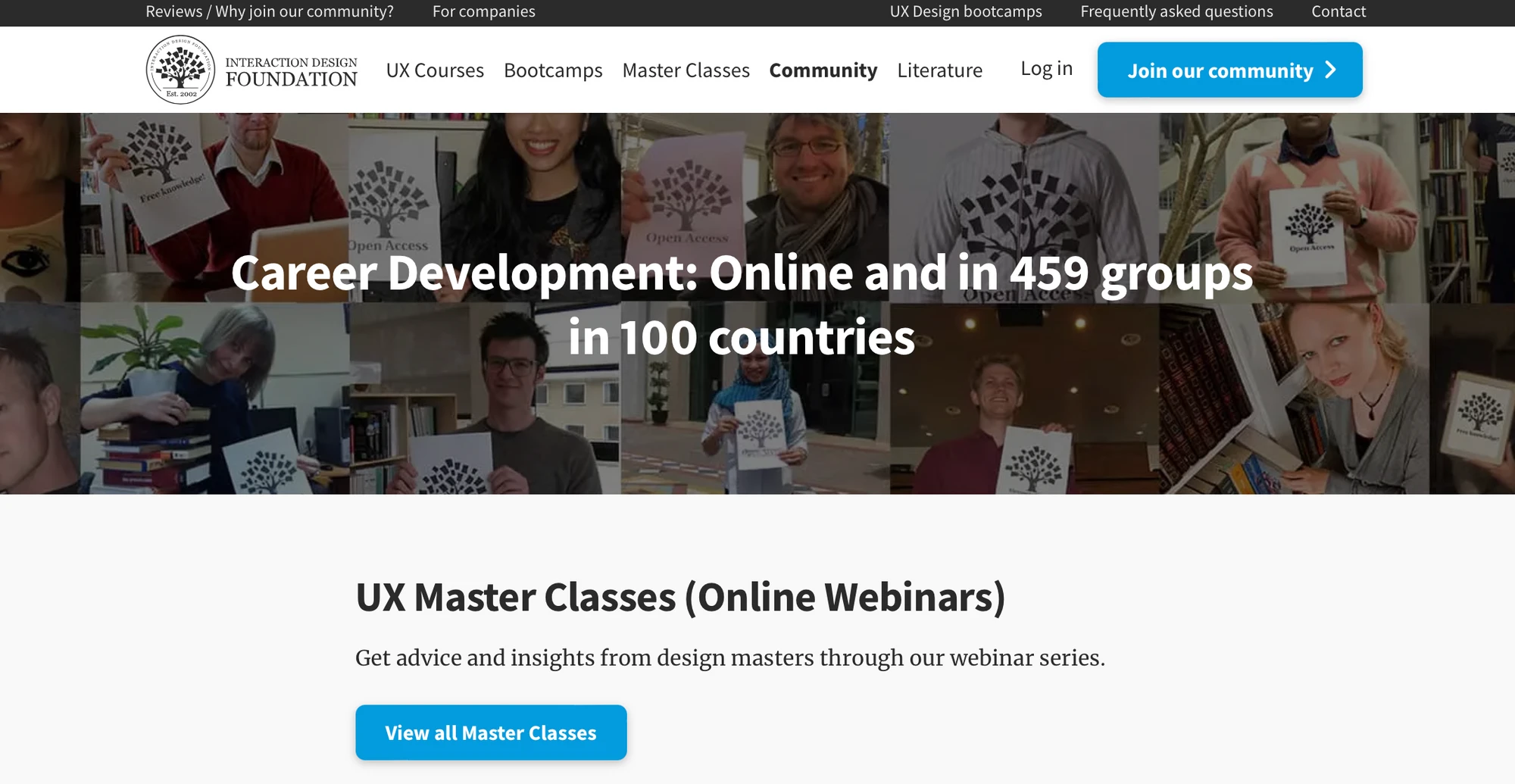 Image from The Interaction Design Foundation

The Interaction Design Foundation is one of the most authentic and amazing UI design communities, offering plenty of high-quality UX courses and dedicated to lowering the entry threshold of learning design. In addition to UI/UX tutorials, it also provides a platform to help you build interpersonal networks. Thus, if you are looking for employment from all sides in the largest professional design, it deserves to share with you!
Features:
Providing self-paced design courses online.
Getting a job in design with mentor-led sessions in UX Bootcamps.
Obtaining advice and insights from design masters through its webinar series.
Webinars constantly update their design skills and knowledge on UX master classes.
Related articles: Top 19 Best Online UI/UX Design Courses You Must Take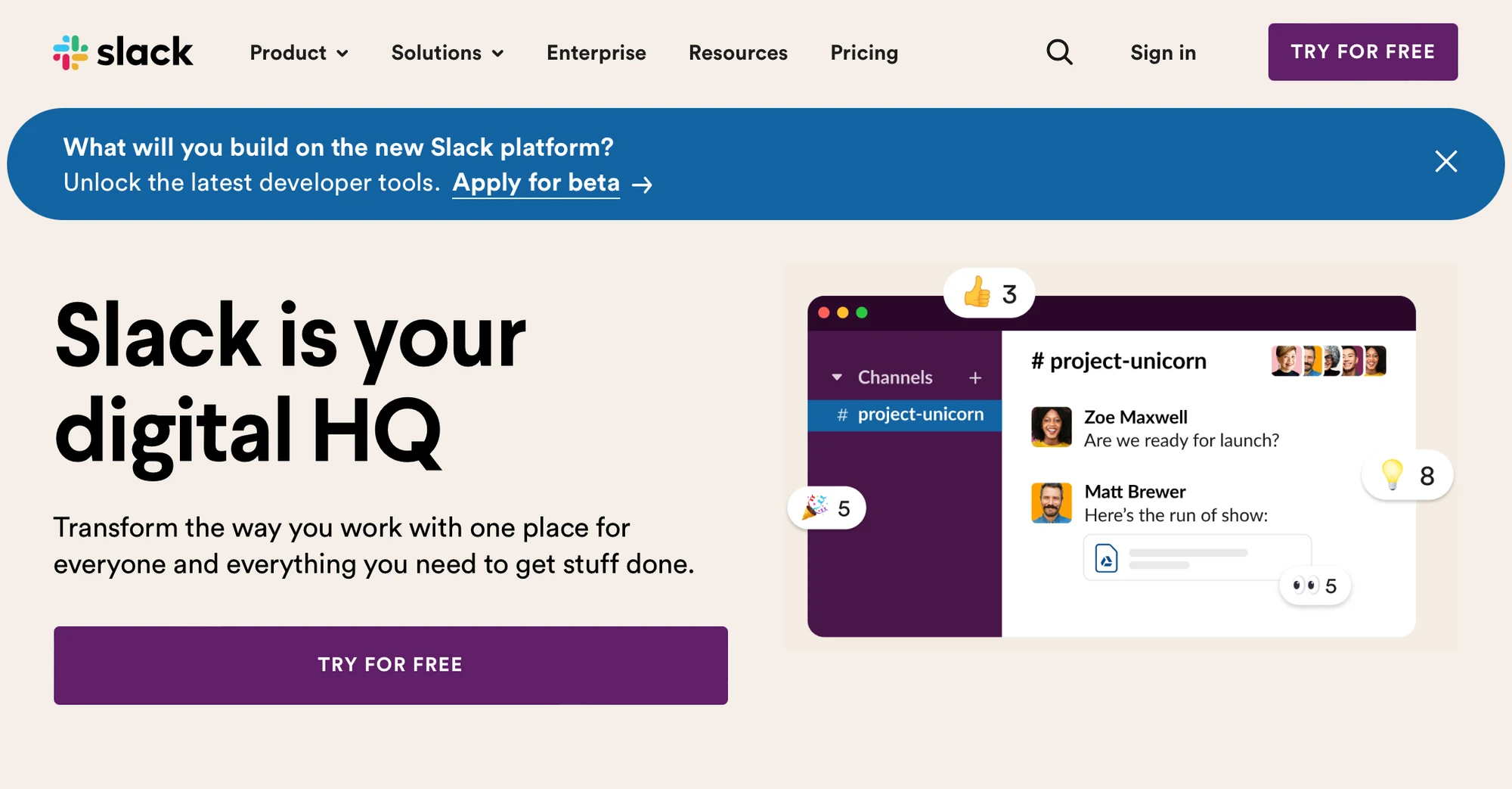 Image from Slack

Slack has always been a popular business communication platform, offering multiple chat rooms or channels based on specific topics, areas of expertise. Besides, you can also chat with other designers through direct messaging. Likewise, there are various Slack groups for UI/UX designers, allowing members to stay abreast of changing trends within the design field. Keep yourself updated!
Features:
Instant response to every message.
Having both in-group communication and a private chat.
Creating the function of auto-reply message with "SLACKROBOT".
Easily upload documents, pictures, videos, and even links to any third-party software.
Design Groups you should join: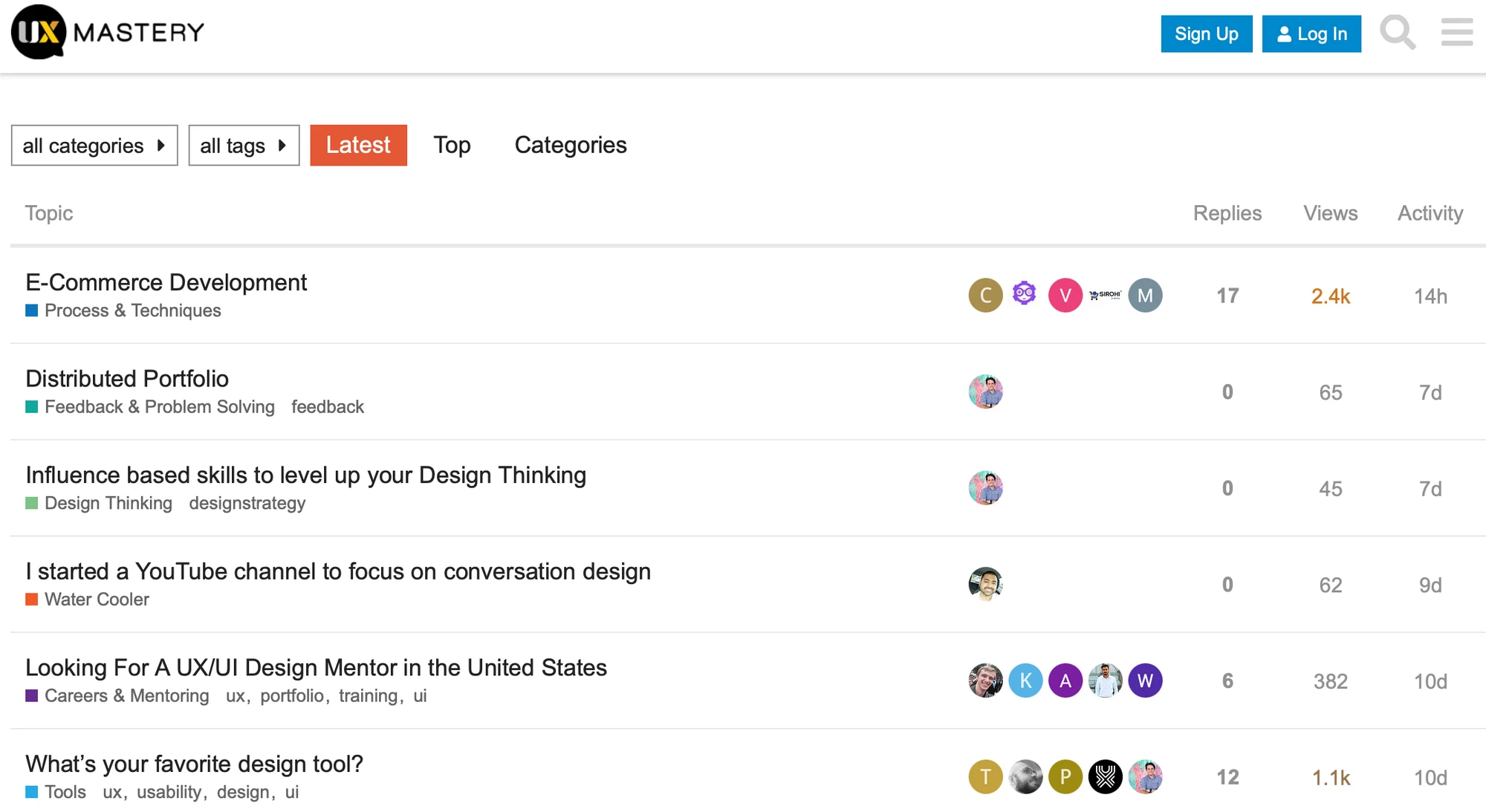 Image from UX Mastery

A design-leading community aiming to help UX designers get started and do better on their designs. Its value is its creative content and trustworthy approach to user experience design and its wider community of connected professionals. If you are looking for a mentor, seeking career advice, networking with peers and want your portfolio reviewed, then don't look any further.
Features:
Online shop which sells practical UX books.
"UX Mastery Podcast" focuses on UX design.
Directly replying to other designers in the Forum.
A variety of organized-list includes UX tutorials, books, tools and software.
The forum is well-categorized, so you know where to find discussions on anything you need.
How to Manage Notes and Inspirations in Class? Use Eagle!

Eagle allows you to keep notes on your images and videos, you can not only directly record ideas in your works, but write down text notes on the right side. Try Eagle now!

Image from Eagle — Image annotation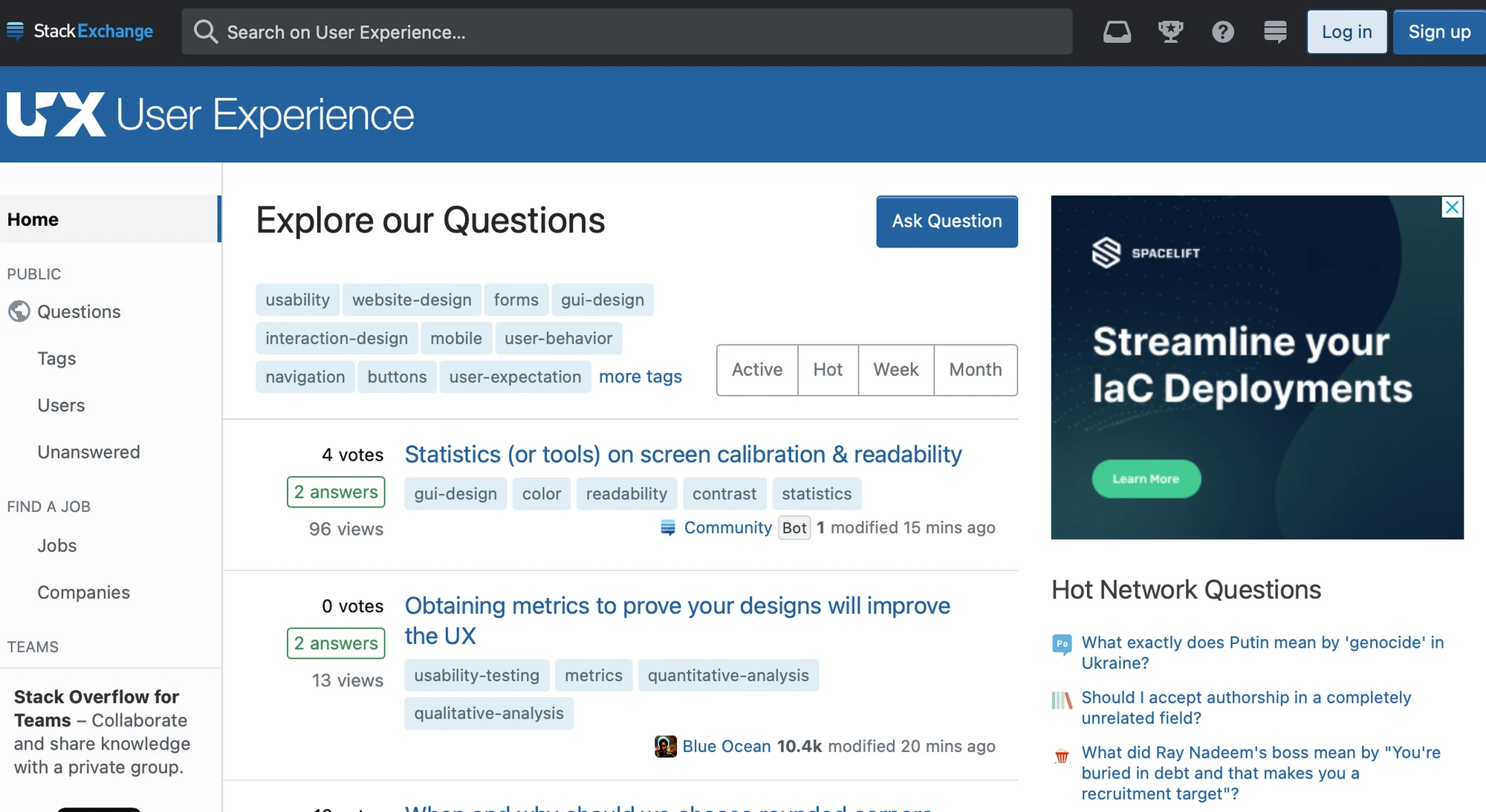 Image from User Experience Stack Exchange

This is a question and answer related website for user experience designers, UX researchers, information architects and human-computer interaction designers, allowing anybody to ask or answer a question there. All questions here are tagged with different subject areas, which helps you quickly find a specific topic among various sorts of articles.
Features:
Every user can ask or answer a question here.
Providing a platform to find jobs or recruit talents.
A tag is a keyword or label that categorizes your question with other similar questions.
To reward your actions on the site, it will give you reputation, badges or privileges, recorded in your "Achievements Tray"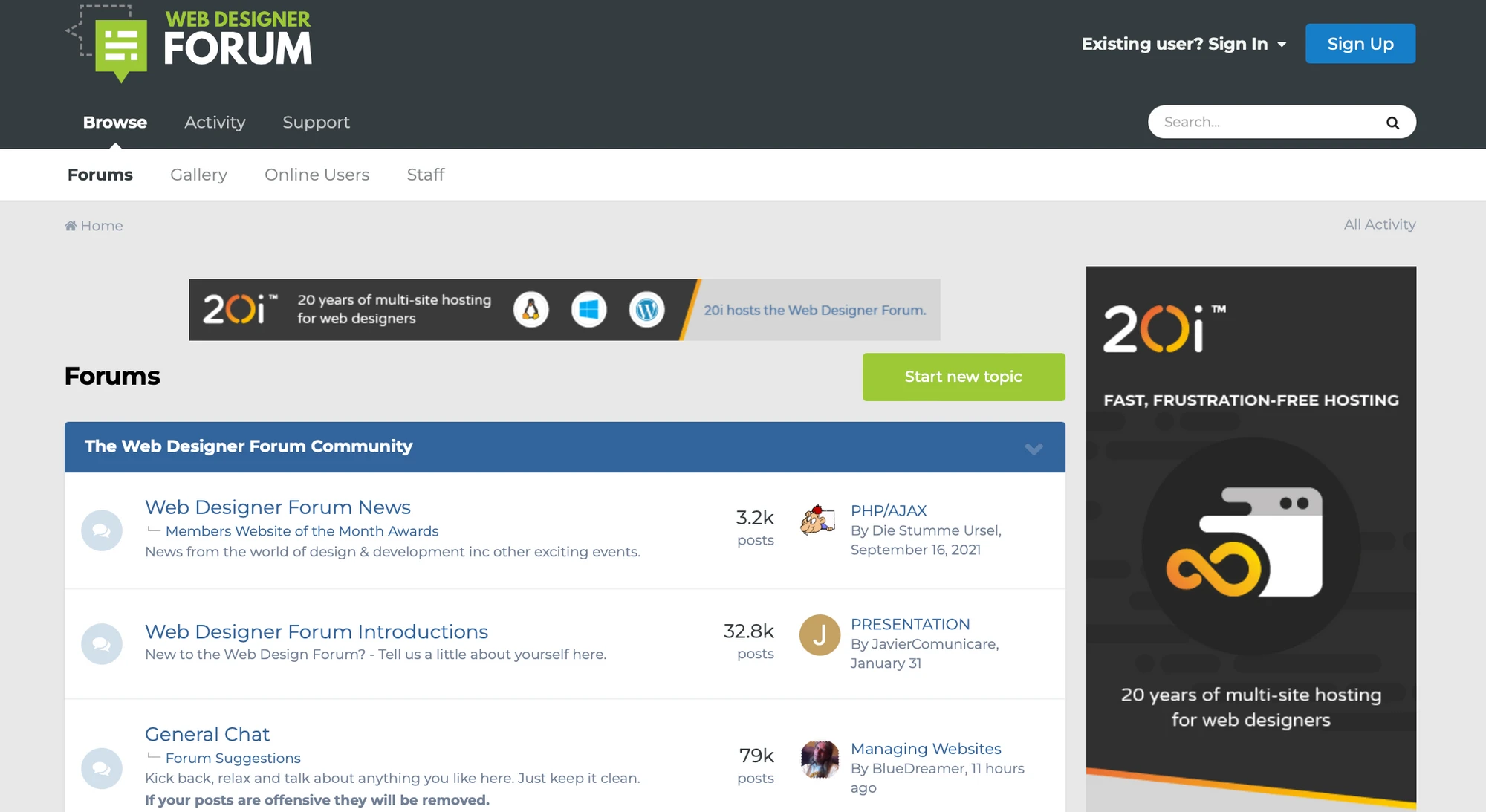 Image from Web Designer Forum

Web Design Forum is an expert advice forum about web design and development. You can get the latest web design skills and methods here, and can also communicate and share your own experiences and lessons in these fields with other designers from the UK. Besides, it also has "Gallery" board filled with web design works.
Features:
Directly reply to others' posts.
You can get the answers here for any web design questions.
Giving you different badges according to your activity on Forum.
It collects a large number of great web design works from members on the "Gallery" board.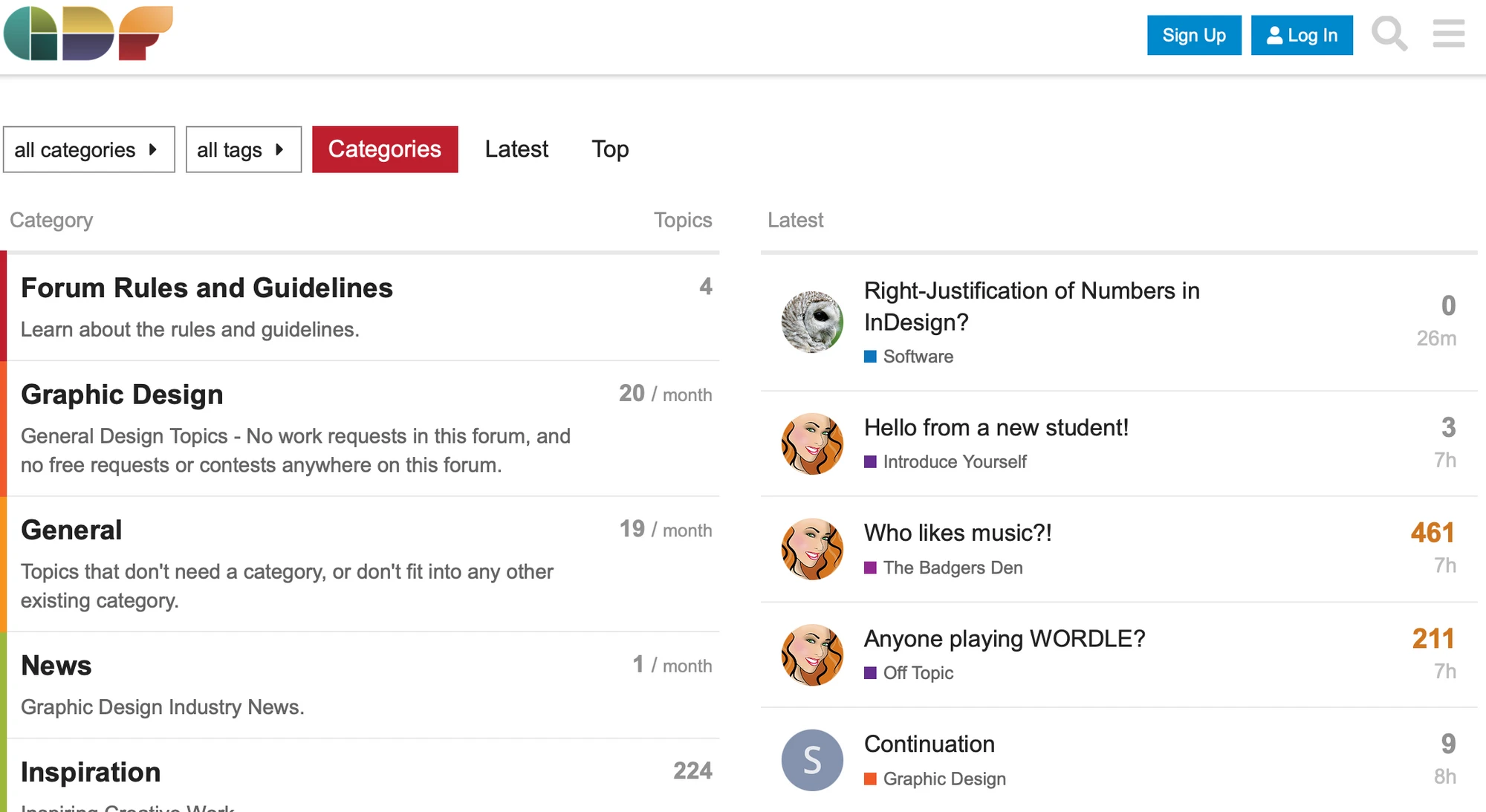 Image from Graphic Design Forum (GDF)

Graphic Design Forum is one of the oldest and biggest graphic design forums, with more than 20,000 members thus far. The community is large and active, consisting of various general categories like web design resources, web development, website marketing. It is such a great platform to help you with general web design questions, or anything else related to graphic design.
Features:
Using 30+ tags to help you find the topic instantly.
If you have questions about design, you can find the answers on GDF.
You'll find inspiration and resources to help you master the ability of design.
You can post your designs and request critiques from other users on "Crit Pit".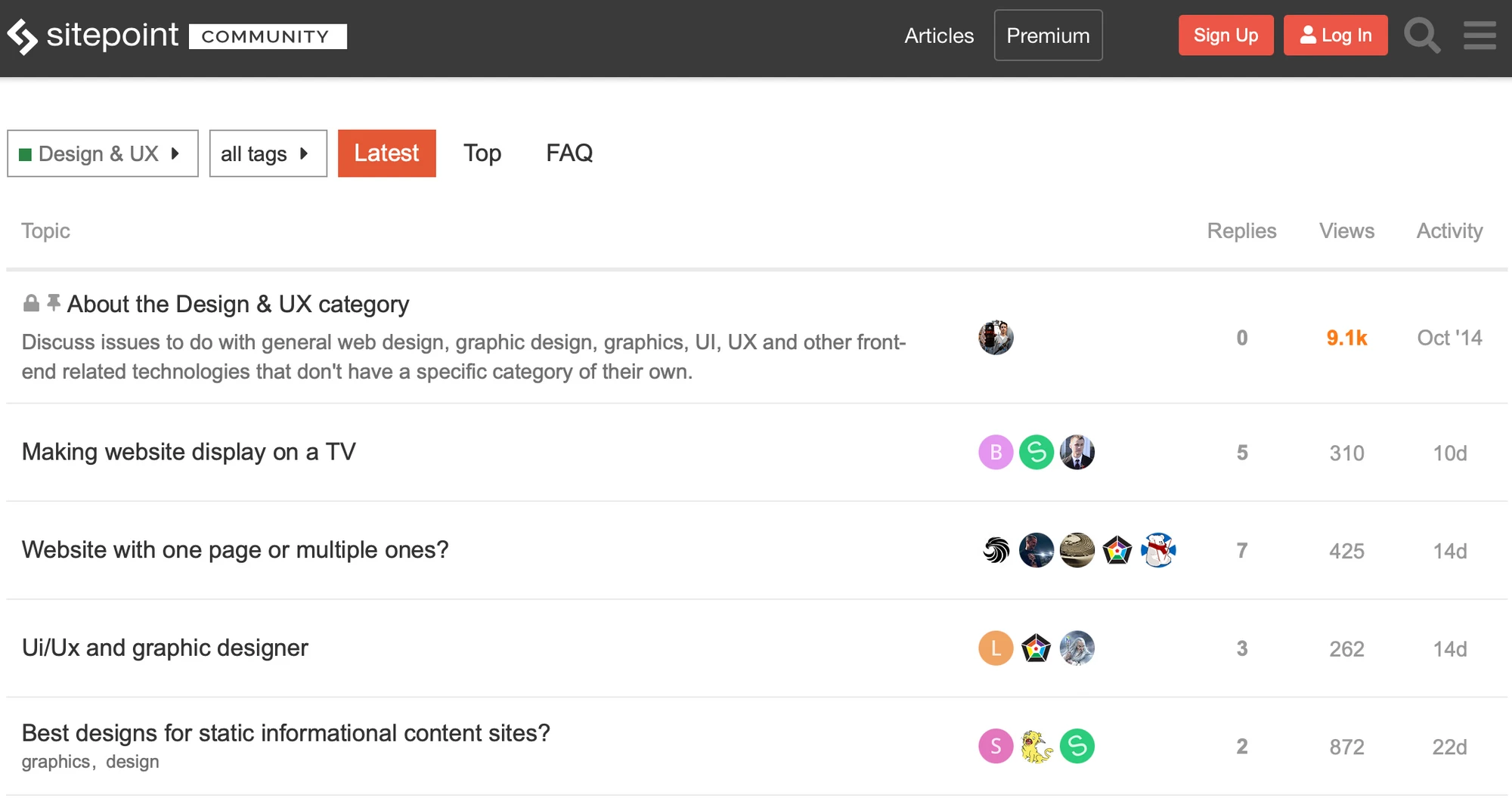 Image from Sitepoint

Sitepoint is a huge design social community with over 250,000 members around. This is a perfect place to network, find programming tips or business advice. What's more, you can also find answers about marketing, database, UX design, etc. Finally, if you want to sell and buy websites and designs, try its thriving "marketplace" right now!
Features:
Interactive with other designers under their posts.
Using various tags to help you find the topic promptly.
Selling and buying websites or designs on "Marketplace"
A place you can ask for help with design or reply others' questions.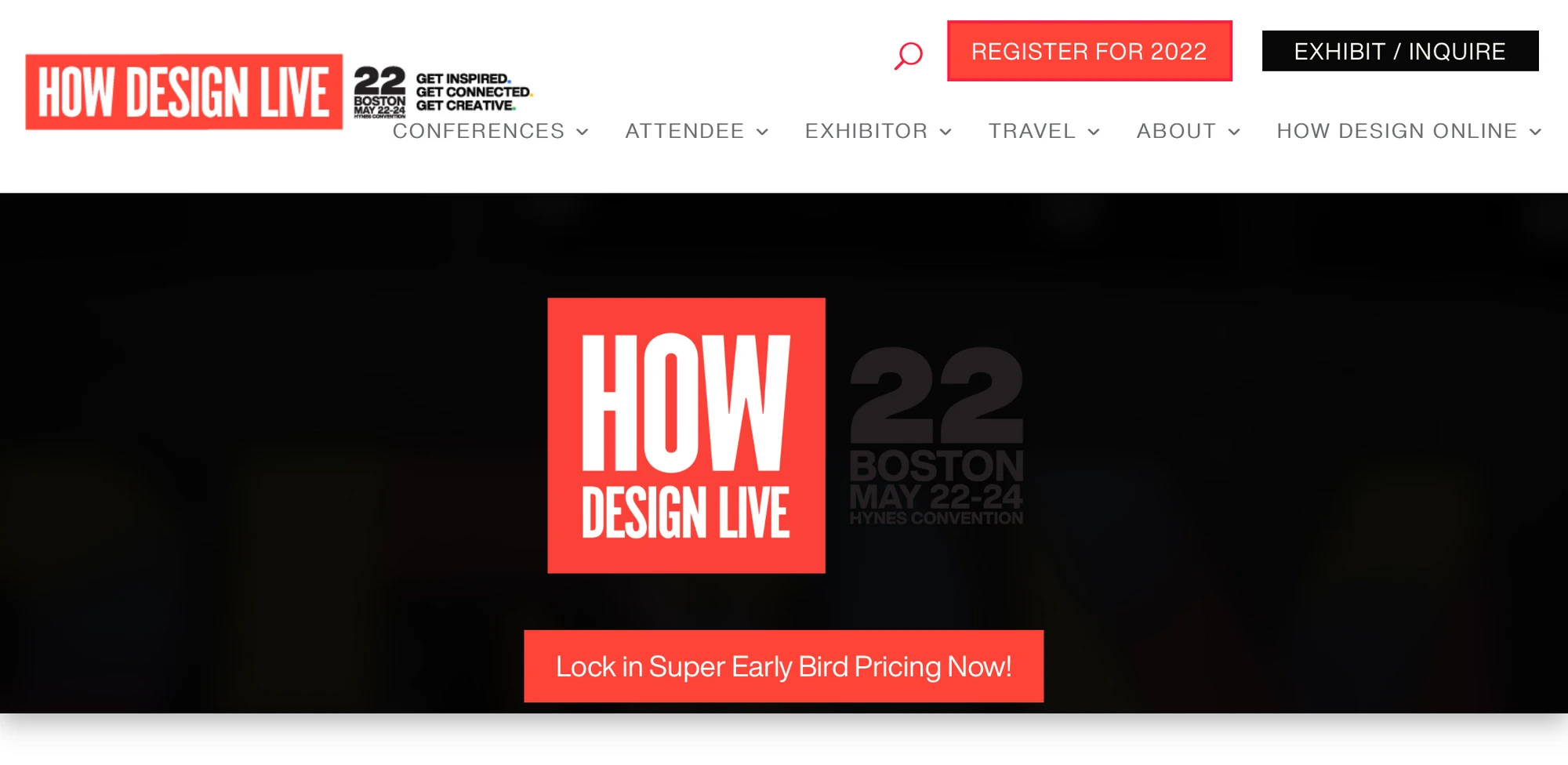 Image from How Design

How Design is one of the most popular design communities around, generally broken down into different categories: News, Design Business, Interactive, Design Career, Online Learning, How Events, and Competitors. It's great for you to have a chance to interactive with other UI/UX designers. Apart from social networks, it's the best web design forum to showcase your work and get constructive feedback from other design professionals.
Features:
Work sharing and getting feedback
A creative community that validates your work, and empowers you to do great things.
Having an exclusive opportunity to preview new design tools, technologies, and products.
Having a very active business and freelance section where you can ask questions and find many useful tips.
Image from AWWWARDS

AWWWARDS is a professional web design social community and competition platform, where developers or web designers can submit their works to be evaluated and scored professionally, and the best design works will be integrated and displayed on websites.
After competing, an offline award ceremony will be held, which can be said to be the Oscars of web design that many designers hope that their works can be named.
Features:
Online courses
Web design competition platform
Curating plenty of best web design works.
Everyone can vote for a web design competition and directly collect eye-catching great works.
Using rich categories and tags to quickly find a topic in its design blogs.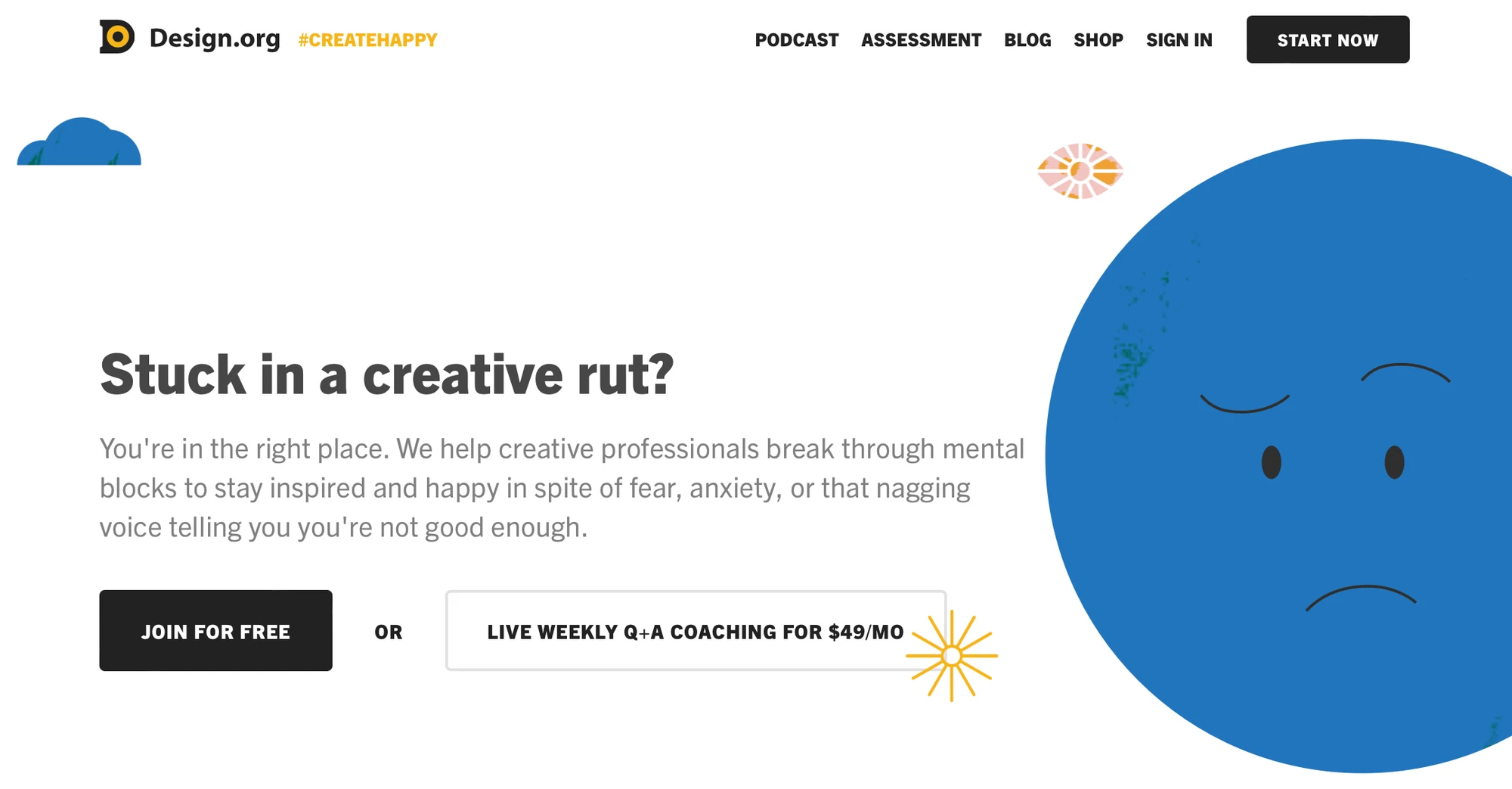 Image from Design.org

Design.org is much more than a UI community. It is a destination where you will find yourself immersed in creativity and learn how to be more creative. On this platform, you may not be able to talk to other members directly, but you can hear their voices via blogs or guides. The platform also provides some assessment tests to help you figure out your design levels and make them to the next level!
Features:
Assessment tests
100+ blogs that enhance your abilities.
A mental wellness podcast for creative design professionals.
A free weekly inspiration email to fuel your creative energy for the week ahead.
Design.org shop supplying a variety of interesting stuff designed by the official.
Live weekly Q&A coaching sessions to ask questions and listen to others work through challenges (additional fee)
---
Looking for places to store your inspirations from design communities? Eagle is here to help!
After viewing all these UI/UX design communities, here's a practical step to improve your design by using an organizing tool! Eagle is a desktop productivity tool that enables a powerful organizing system for all types of design files fast and easily.
No matter what kind of files, links, images, videos you found online, it can add tags, ratings, comments, and smart folders to help you effectively manage all of your UI/UX materials or inspirations you get from all different channels, social media or communities Try Eagle!
Video from Eagle

Lastly, if you are eager to learn more design information and resources, visit and bookmark Eagle blog to become a better creative professional!

If you are still lacking inspiration and incentives to create something new, feel free to dive into Eagle Community to explore stunning assets shared by thousands of designers worldwide. Let Eagle be your best design assistant!