Unveiling The Best Online Animation Software of 2023: Which One Is Right For You?
Are you looking for the absolute best online animation software of 2023? Look no further! In this article, we'll be breaking down some of the top-rated tools available today and providing you with the information necessary to make an informed decision. By the end, you'll be able to know which one is best suited for both your technical needs and creative goals.
Eagle App - Collect & Organize your Animation Inspiration
Video from Rolando Barry (using Eagle as my 3D design library)

If you're an animator, chances are you've been using some form of online animation software to help with your workflow. And if you're looking for a new tool to help with your animation inspiration, Eagle App is worth checking out.
Eagle App is a tool that helps you collect and organize your animation inspiration. Plus, it has some features that other online animation software doesn't have. For example, with Eagle App, you can create mood boards. This is a great way to visually organize your ideas and see how different elements work together.
Additionally, Eagle App allows you to keep track of your favorite animations. This is helpful if you want to go back and reference specific animations later on.
Finally, Eagle App also lets you get feedback from other animators. This is a great way to get input on your ideas and see how others would approach them.
So if you're looking for a new tool to help with your workflow, be sure to Try Eagle NOW! Available with a 30 days free trial.
---
Exploring The Different Types Of Online Animation Software: What You Need To Know
Animation is no longer just for the professionals. With the wide variety of online animation software available these days, you too can join in on the fun and create your own stunning animations!
There are a number of online animation makers available on the market today. But which one is the right one for you? It really depends on your needs, budget, and the type that is perfect for you. Let's first cover the various types of online animation software.
Simple Storyboarding Tools
The term "storyboarding" refers to the creation of a visual representation of a story or sequence of events. Storyboards are often used in the filmmaking and television industries to help plan and visualize projects.
But storyboarding can also be a useful tool for businesses, educators, and anyone who wants to better communicate their ideas. There are a number of simple storyboarding tools that can be used to create professional-looking storyboards quickly and easily.
One popular option is Miro, which offers a free online storyboard creator that can be used by individuals or teams. Another option is Canva, which offers a variety of templates and design options that make it easy to create high-quality storyboards.
No matter which tool you choose, storyboarding can be a helpful way to plan and communicate your ideas. So why not give it a try?
Advanced Character Animators
Advanced character animators are a vital part of creating realistic and engaging characters in video games, movies, and other forms of digital media. By using these tools, artists and animators can create lifelike characters that can interact with their surroundings in realistic ways.
One of the most important aspects of advanced character animation is the ability to create fluid and natural-looking movements. This is often achieved by using motion capture technology to record real-world movements and then applied to the digital character.
Another key element of advanced character animation is detailed facial expressions and lip-sync. This helps to bring the character to life and make them feel more human.
Advanced Character animators allow animators to create truly believable and immersive characters that can transport players or viewers into another world.
2D and 3D animation Software
2D and 3D animation software are used to create animated graphics and visual effects for a variety of applications.
2D animation software typically uses bitmap or vector-based graphics to create the images, while 3D animation software creates three-dimensional models and employs techniques such as ray tracing or scanline rendering to generate the final image.
2D animation software is often used to create cartoons, while 3D animation software is more commonly used for movies, video games, and other applications that require realistic graphics.
Some of the most popular 2D animation software programs include Toon Boom Harmony, Adobe Animate CC, and Moho Pro. Popular 3D animation software programs include Autodesk Maya, Autodesk 3ds Max, and Cinema 4D.
Let's move on to the best 15 online animation tools for 2023- Find out who made the cut!
---
Who's Making It Big In Online Animation: The Top 15 Software Of 2023
1. Animaker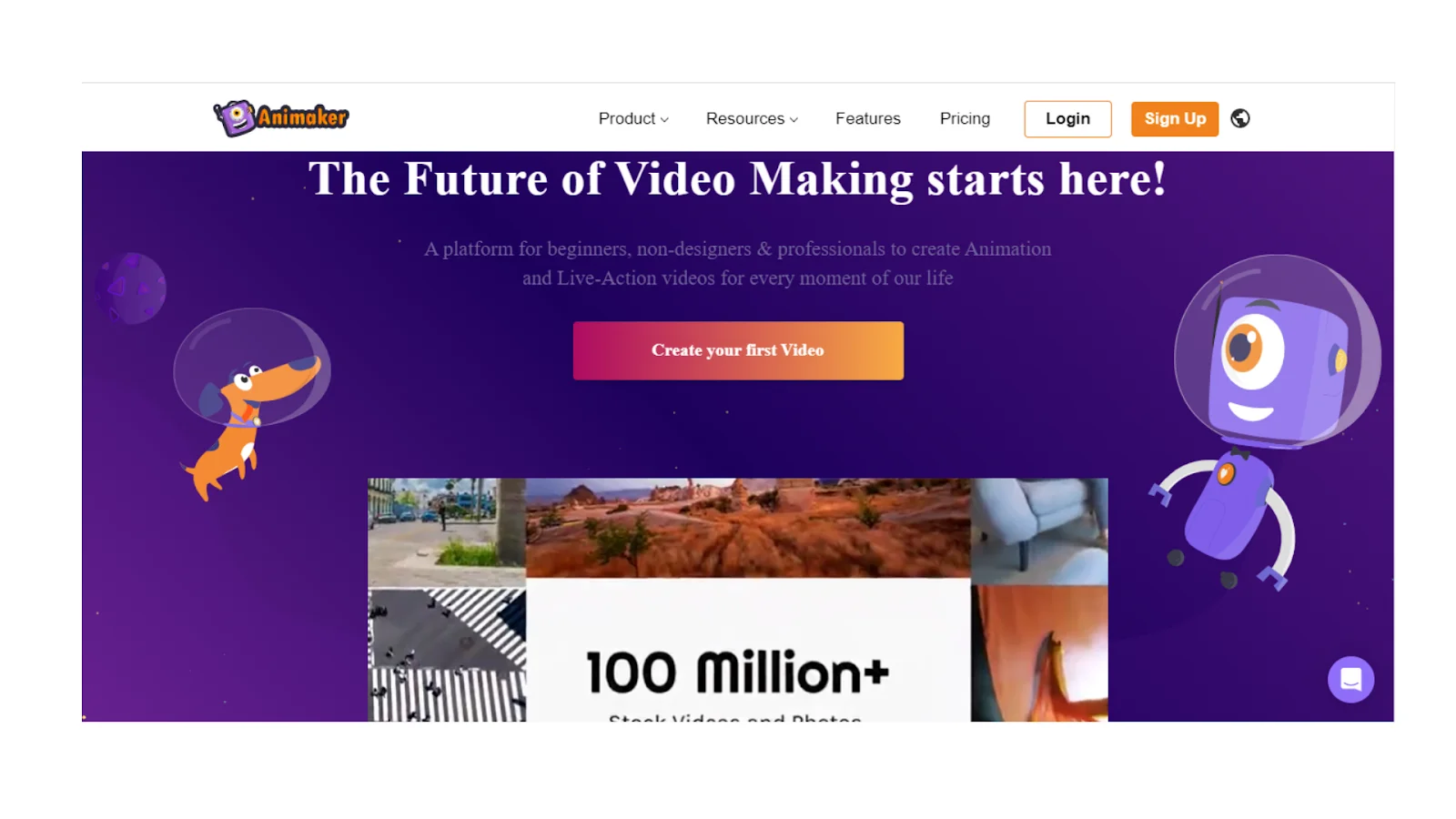 Image from Animaker
Animaker is a powerful HTML5 engine for video editing software with an intuitive and straightforward interface. Start by choosing from over 100 professionally crafted, custom-made templates to get started - inside these templates, you'll find texts, arrows, shapes, and more to help you easily create the perfect animated video or presentation.
You can also import your own images by dragging them into the browser or by uploading them in bulk through the uploader tool located at the top right corner of Animaker.
Next up, choose some background music (or choose not to) and start animating! Add stylish effects like fading in and out of scenes, adding character emotions (like joy or sadness), using stunning text animations, adding facial expressions to characters and more!
Since its launch, Animaker has helped over 15 million people create awesome videos by themselves.
Features:
Powerful HTML5 Engine
Professionally Crafted Templates
World's largest video asset library
Character Builder
Extensive Facial Expressions
Auto Lip Sync-Smart Move
Live Video Editing and 4K Video Quality
Subtitle Your Videos
Pricing: There is a free plan with limited features, and paid plans start from $10/month. However, you will be billed annually for the paid plans.
Pros: It offers a wide variety of video styles for business or personal use. These include whiteboard videos, which can be used to explain complex concepts in a simple and engaging way.
Cons: The free plan for this watermark software only allows for 5 downloads, and it's not good for creating animated images - only videos.
Start exploring now and see how easy it is to discover new motion design inspirations with our Eagle App!
2. Easil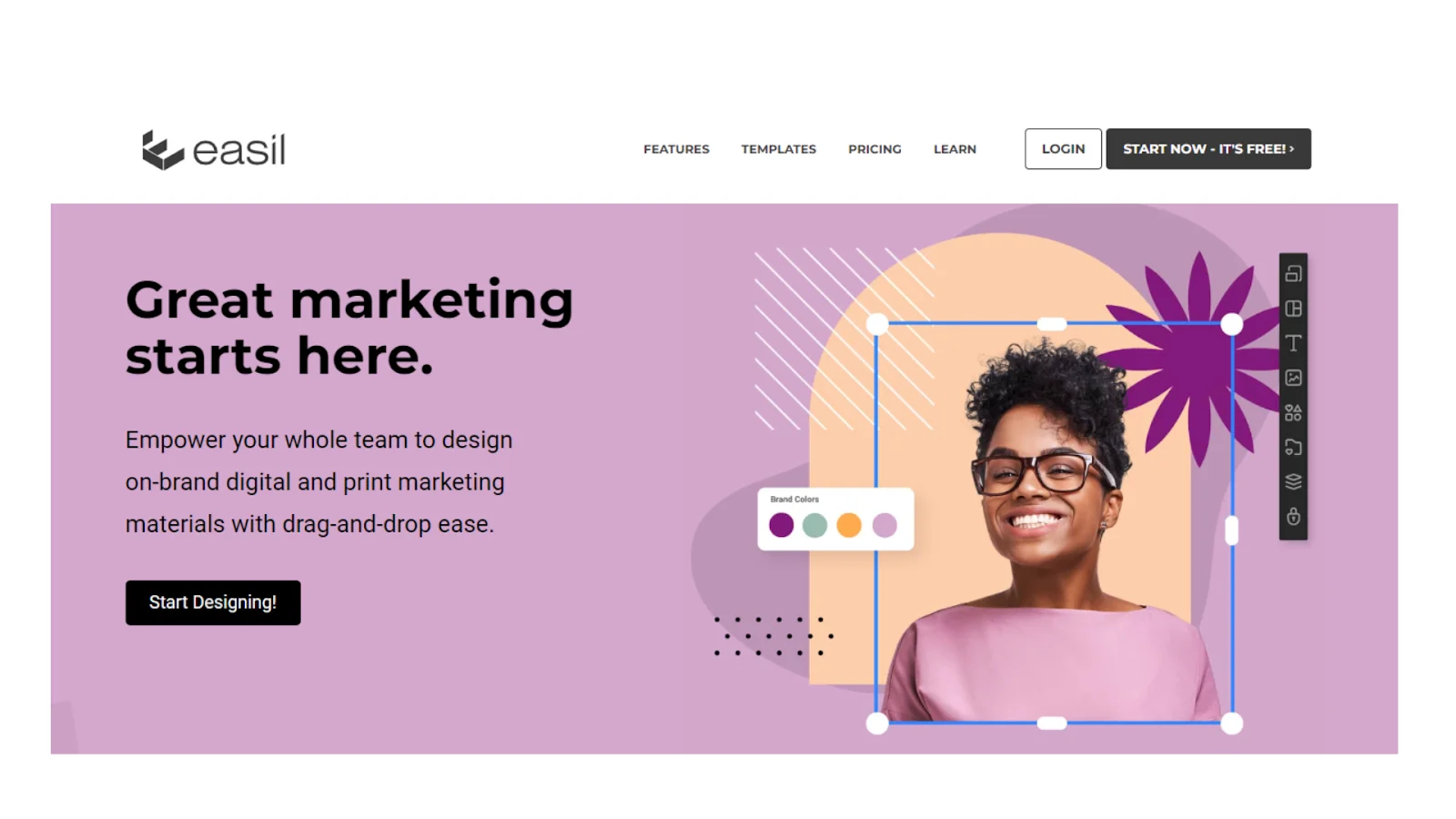 Image from Easil
As a business, you want to have complete control over your brand identity. With Easil's professional design templates and easy-to-use editing tools, it's easy to create stunning visuals that represent your brand perfectly.
You can easily change text and photos across various sizes, add drop shadow, glow, or curved effects to text, and more. You can also fast adapt templates to match any need.
Plus, with a fantastic range of free fonts, you can really make your designs pop. And with the magical color palette generator, it's easy to coordinate colors across all your visuals.
Finally, the Layers tab lets you keep everything organized so you can easily make changes as needed.
Features:
Numerous categories of thousands of modifiable templates
Featured content that is top-rated and most liked by customers
Creative text effects like drop shadow, bevel, and masks to enhance your design
Complete creative package for social media promotions, web designs, logos and banners.
Share team dashboards with the team members you choose to share with
Export your work to JPEG and animated GIF formats.
Pricing: The Easil fees start at $7.50 per month per user, which is billed annually.
Pros: Great tool for teams who want to improve their visual branding. It has plenty of features that make sharing and enhancing your brand easy.
Cons: It only allows you to make animated GIFs by duplicating images and making changes to each frame. The free plan doesn't include a GIF download option.
3. Vista Create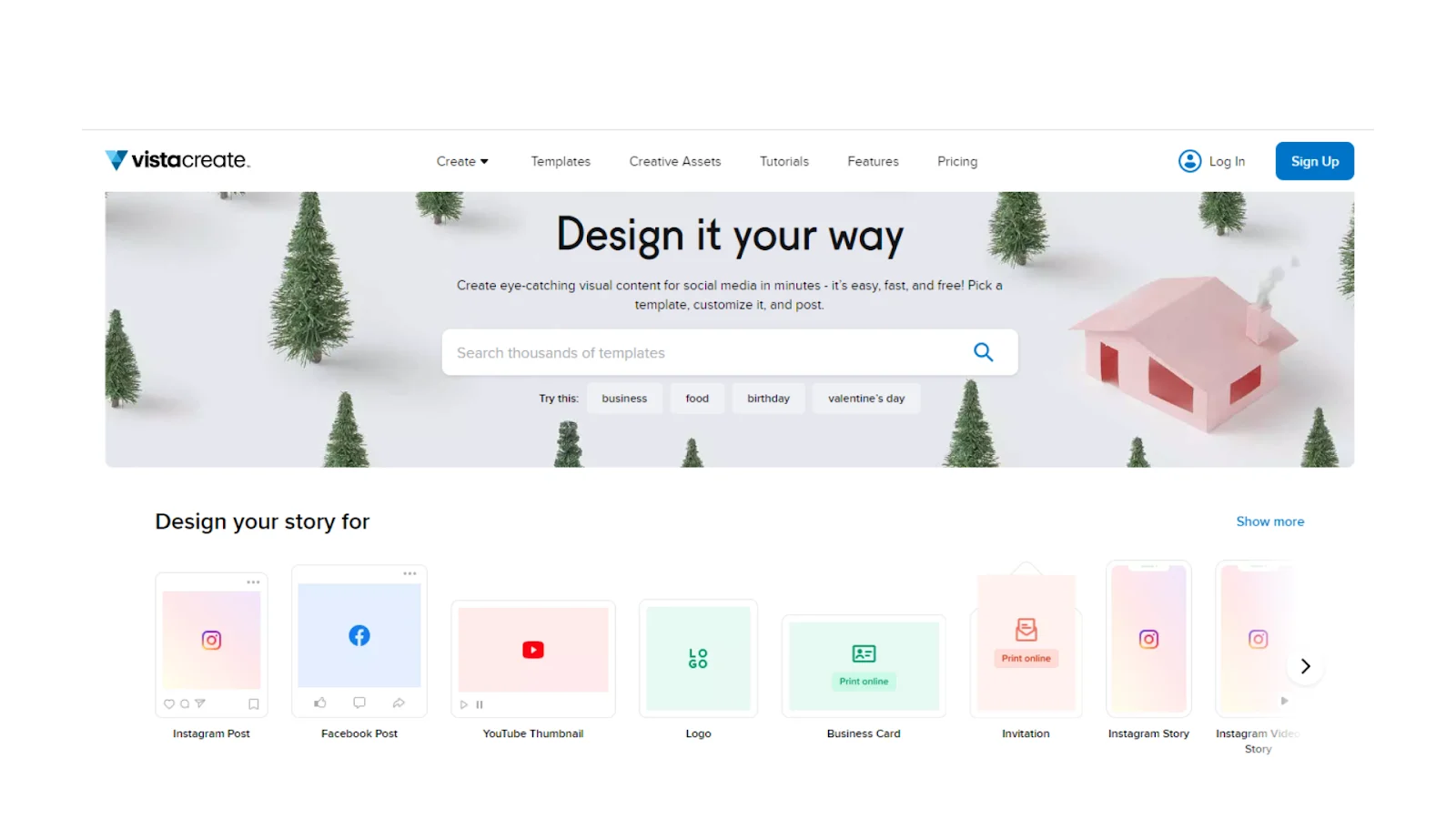 Image from Vista Create
With the help of Vista Create, you can do some really awesome things with your videos. For example, with the video editor, you can add frames to your videos, rotate them, add images to them, add text to them, and even add other videos to them.
With the resize feature, you can make your videos smaller or larger. And with the animated effects feature, you can apply some really cool effects to your videos that will make them look even better.
Features:
Choose from thousands of animated templates that suit your every need
Use over 50 million stock photos to create your ideal design
Option to access your own library of graphics and fonts
Upload your own animations and customize them at any time with the easy drag and drop mechanic
Download finished product in MP4 format ready for uploading in high quality
Pricing: They offer a Free plan with limited features, as well as a Pro plan that starts from $10/month and is billed annually.
Pros: A handy tool for creating animated video artworks in various formats, including stories, presentations, and social media posts. You can even use the mobile app to design on the go.
Cons: The free version only gives you limited storage and some creative assets.
4. Adobe Animate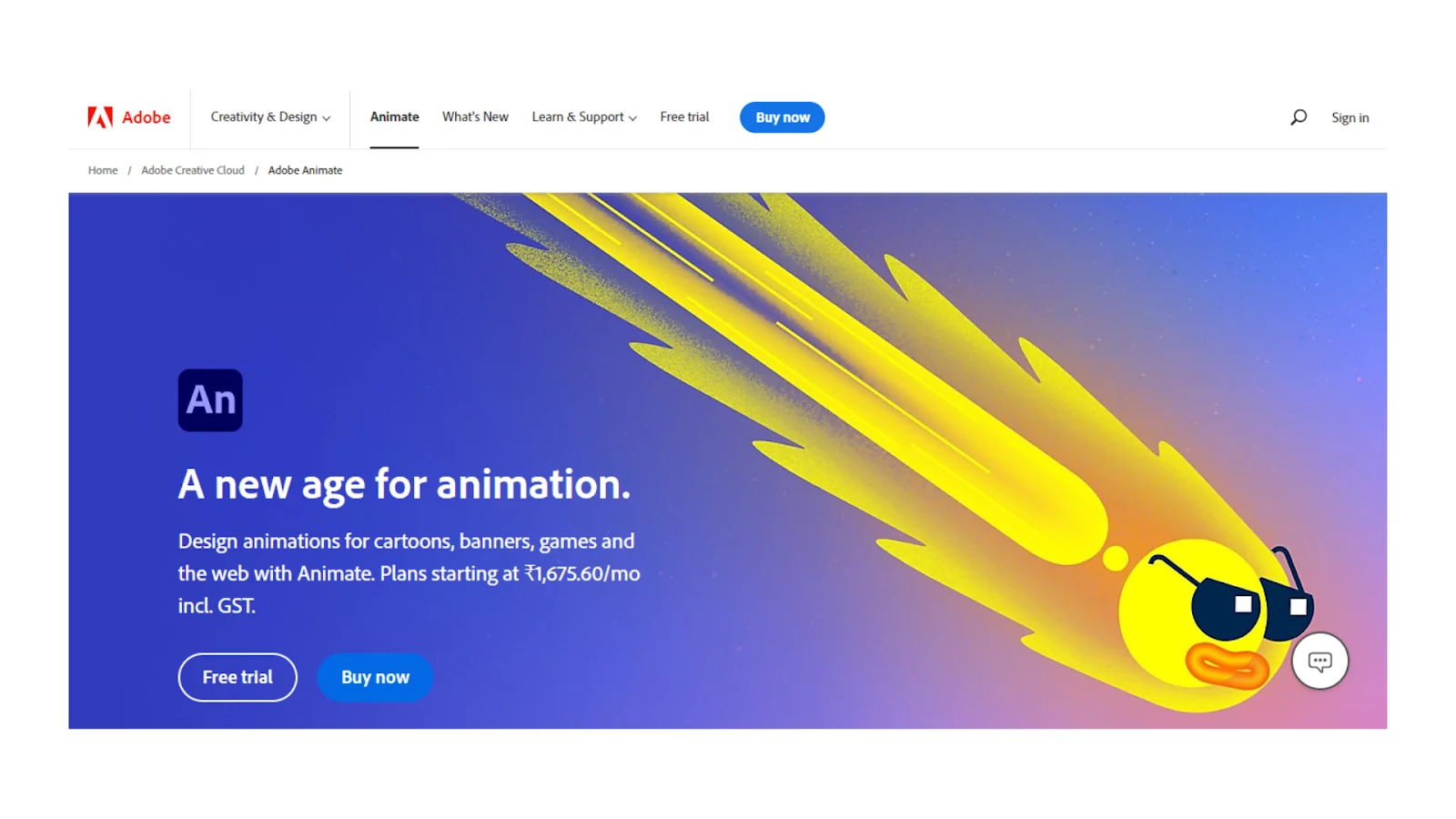 Image from Adobe Animate
Adobe Animate is a versatile tool for creating 2D animations. The software has been designed to be user-friendly, so that even those with no prior experience in animation can create stunning visuals.
Using the timeline controls in Adobe Animate, you can animate objects like characters, avatars, shapes, and other materials. Because of this, it is simple to produce intricate animations that are both fluid and lifelike.
In addition, the software lets you export your animations in a variety of formats, so that they can be used in videos, ads, games and television productions.
Features:
Draw efficiency and accuracy with vector brushes
Size, smoothness, width, opacity, directional pressure and velocity sensitivity settings
Intuitive timeline controls, including multi-touch pinch that lets you zoom in and out
Use the virtual camera to create 3D scenes and pan, zoom and otherwise change the viewing angle
Type kit integration provides up to 36 premium fonts for web use
Export your animation in Flash®, HTML5® Canvas, WebGL™ (JavaScript API), SVG Vector Animation and more formats.
Pricing: A month-to-month subscription service that starts at $20.99 per month
Pros: It has a lot of options for exporting and sharing your animations, so you can publish them in pretty much any format for any platform
Cons: Adobe's Animate software has a high learning curve, particularly for those new to using it.
5. Adobe Character Animator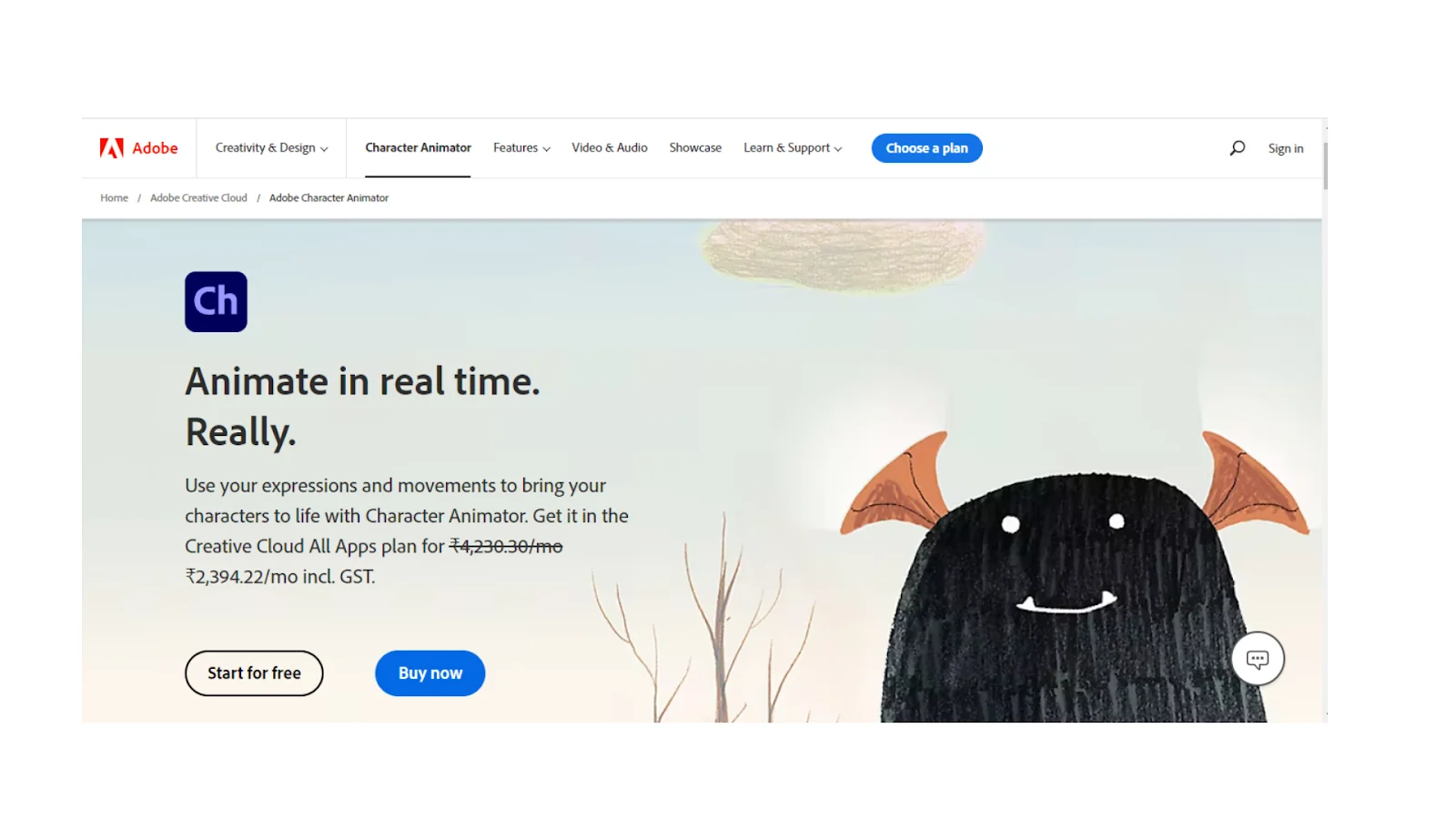 Image from Adobe Character Animator
Adobe Character Animator is a powerful piece of software that allows you to create 2D animations using motion capture technology.
This means that you can record your own facial movements and use them to animate your characters in real-time.
This is a great tool for animators who want to create lifelike animations of their characters without having to painstakingly draw each frame by hand.
Features:
Shoot live video to capture movement in real time
Auto-tracking and face tracking with automatic image overlay
Adjust the pose of characters on-the-fly using a large runtime 3D workspace
Customizable bones in hand drawn or photographic assets to create any animated expression
Pricing: The Creative Cloud All-Apps Plan includes all of Adobe's creative apps for $52.99/month.
Pros: A a great tool for replicating real-life movements and expressions, and offers plenty of options for importing and exporting content
Cons: Adobe Character Animator is part of the all apps pack, not a standalone product. You need a webcam and microphone to use the motion capture feature.
6. Adobe Creative Cloud Express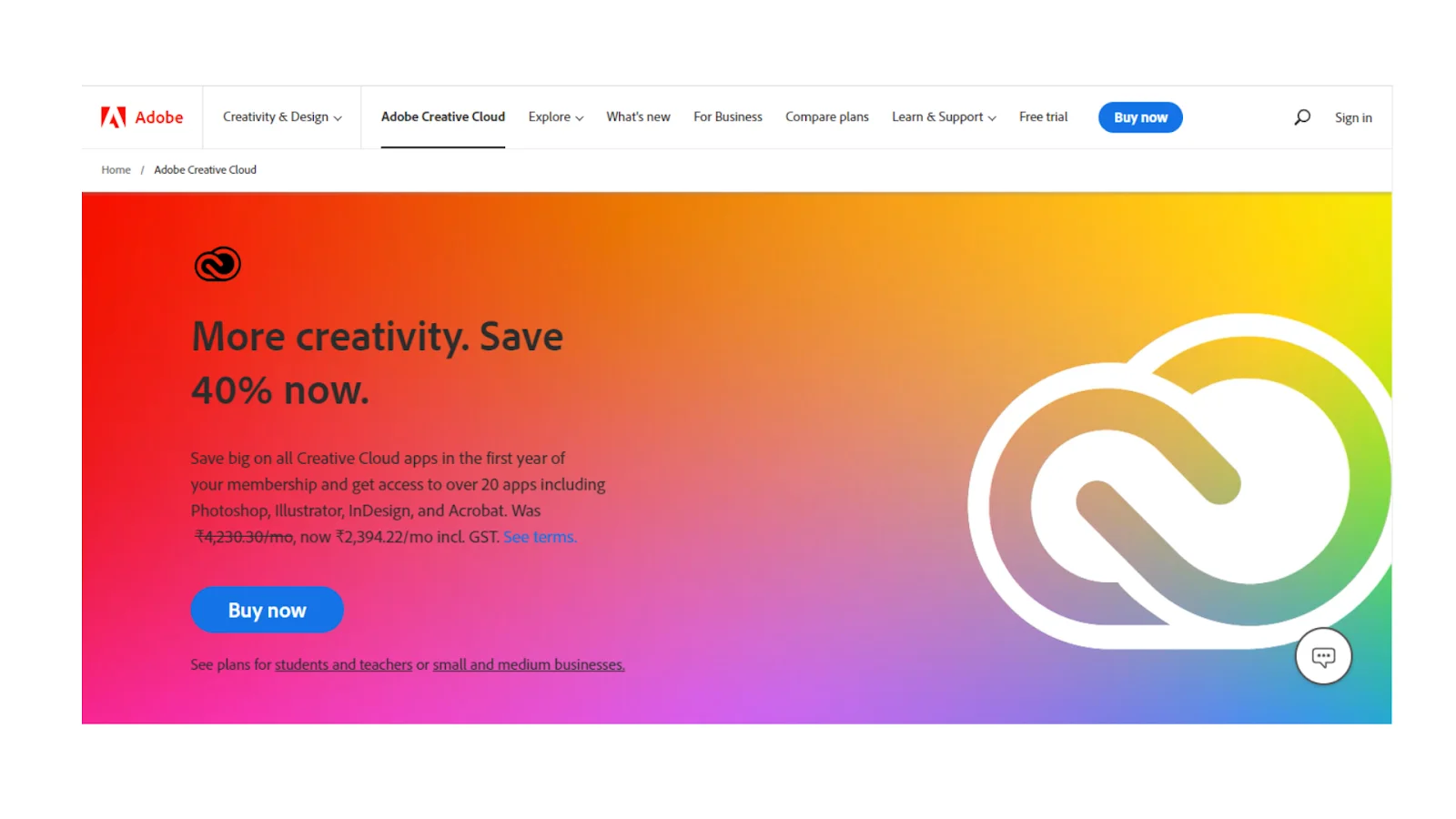 Image from Adobe Creative Cloud Express
Get All Adobe Creative Cloud Apps for 50% off for 6 monthes now! (Valid until May 18th, EMEA region only.)
Adobe Creative Cloud Express can be of assistance if you're seeking for a simple animation programme to make rapid video posts for social media.
Using a template and one of the few available animation styles, you may use the Adobe Creative Cloud Express iOS app to produce quick videos with animated text and images.
Right now, the animation feature is only accessible on mobile, not on the desktop app. But even so, Adobe Creative Cloud Express is still a great tool for quickly creating fun, engaging videos to share with your friends and followers.
Features:
Create video designs for social media, marketing, or other purposes
Share straight to Instagram, Facebook or Twitter
Makes multimedia available anywhere and any time with an iOS app
Pricing: Adobe Creative Cloud Express has a free and paid plan starting at $9.99/month
Pros: Adobe Creative Cloud Express is an iOS app that lets you create animated social media posts. The interface is easy to use and you can sign in with your Adobe account.
Cons: The app lacks advanced animation features, and animations are only available in the iOS version.
7. Blender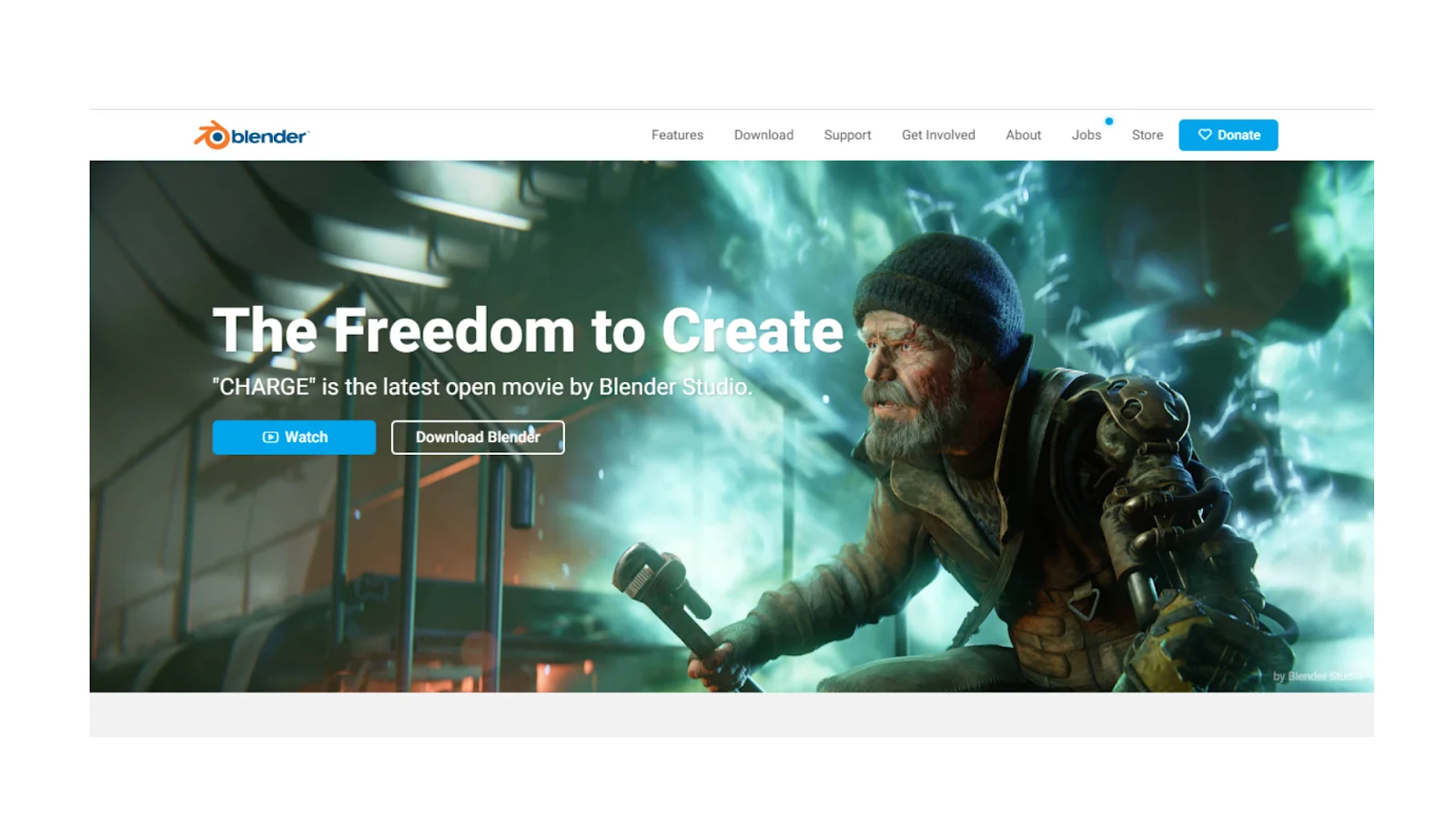 Image from Blender
Blender is an excellent video editing software for creating 3D animations. It offers a wide range of features and options, making it a very powerful tool. You can use it on Linux, Windows and Mac, so it's very versatile.
The biggest advantage of Blender is that it's open-source, so you have complete control over your animations.
Another great thing about Blender is that it's very user-friendly, so even beginners can create amazing animations.
Features:
3D modeling and editing
Powerful rendering
Animating and rigging
Rendering
Simulating
Customizable interface and shortcuts
Extendable with Python API
Pricing: Free
Pros: Blender is a free, open-source 3D creation suite that supports the entirety of the 3D production pipeline, from modeling and animation to video editing and game creation.
Cons: It has a lot of features, but it's hard to learn how to use them all.
With Eagle App's free motion design tool, you can easily create stunning visuals and motion graphics in minutes. Say goodbye to tedious manual graphic design work
8. Procreate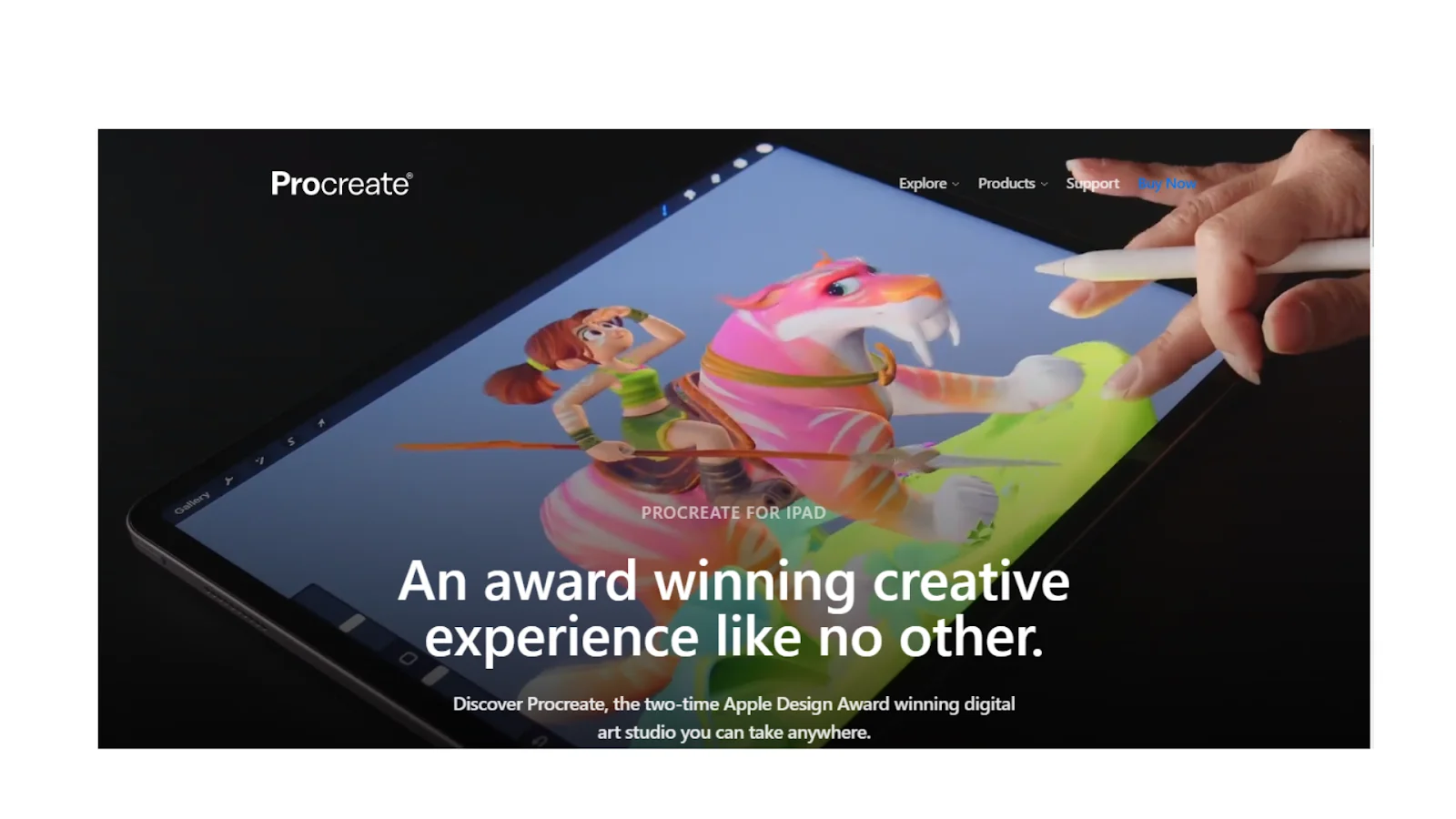 Image from Procreate
One of the best things about Procreate is that it offers users all the benefits of working digitally, while still providing a familiar and intuitive experience.
For beginners, this can be an excellent way to get started with animation. With an iPad and Apple pencil, you can download the app from the Apple Store and start creating animations right away.
Features:
QuickShape: Four unique shapes to help you get the perfect shape every time
PaintBrush: Controls the paint thickness, opacity, flow and more
ColorDrop: Pick a colors from a list of 120+ colors and brush it anywhere you want
Pricing: Procreate is a one-time purchase of $9.99 from the Apple Store. No subscription necessary.
Pros: The app has a simple and easy-to-use interface, with a wide range of brushes. It supports 120hz performance to take advantage of Apple's ProMotion technology.
Cons: The programme only supports the iPad and Apple pencil, and as it only supports pixels, vector creation is not possible. It also has difficult adjustment layers.
9. Keyshot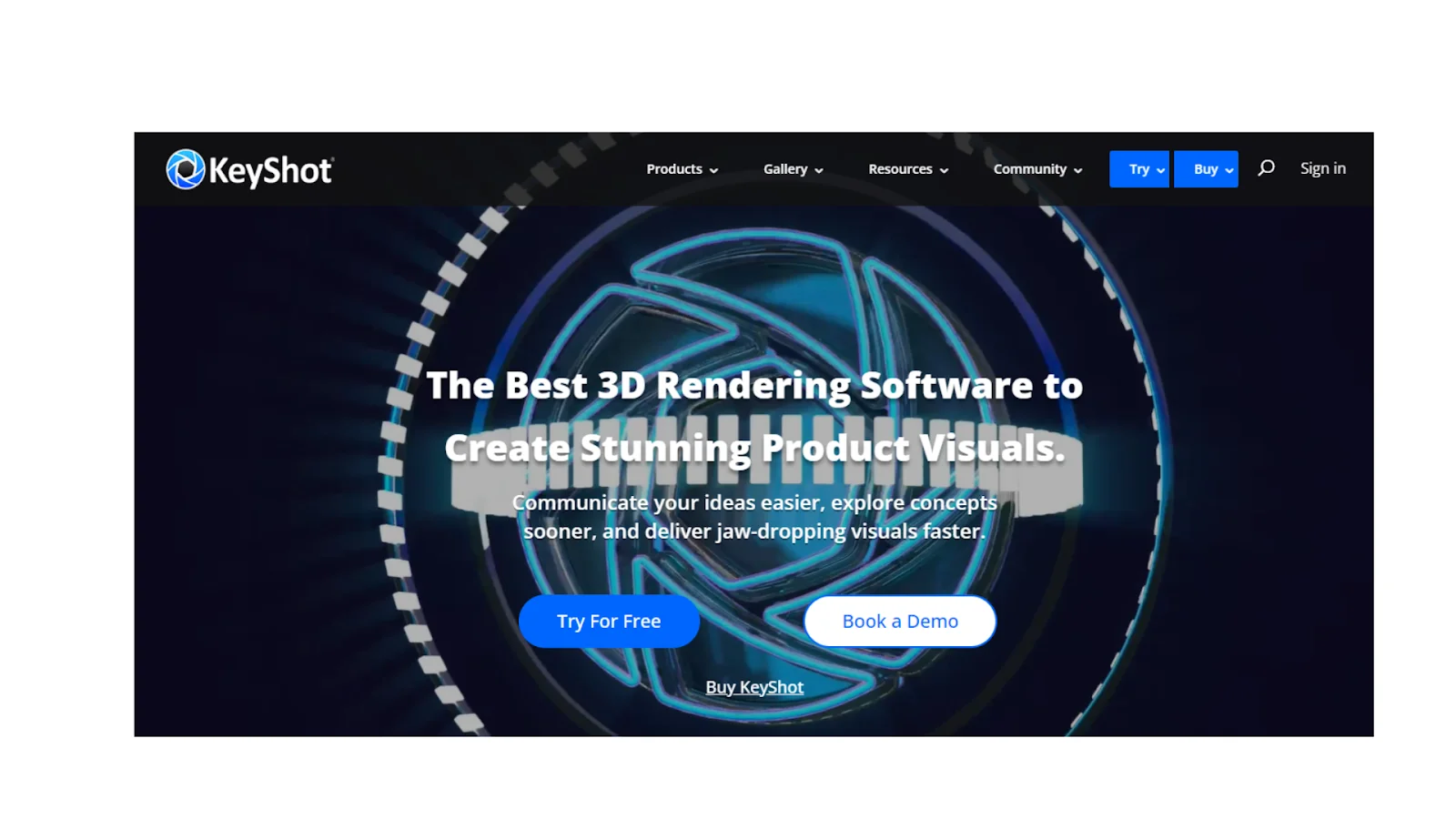 Image from Keyshot
If you're looking for an easy-to-use, advanced 3D animation software, look no further than KeyShot. The 3D and 2D animations produced by this programme are of the highest quality and don't require a separate graphics card.
Additionally, it comes with interactive labelling, texture mapping, physical lighting, and more for your 3D animation. It also supports more than 30 different types of rendering.
With KeyShot, you can create photorealistic and scientifically accurate animations with ease.
Features:
Supports 30+ file formats for input
Includes more than 750 templates to help you differently style your animations
Sketch and animate shapes as per your requirement
Control lights, adjust reflection intensity, create shadows with reflections
Pricing: The cheapest plan starts at $99 per month, but if you pay for a year upfront, it works out to be less expensive.
Pros: Key Shot is a cross-platform modeling program that offers unparalleled accuracy and realism in its visualizations. It can import and export a wide range of model formats, making it an extremely versatile tool for 3D designers.
Cons: Key Shot is not user friendly for beginners, and 3D animation is difficult to understand.
10. Canva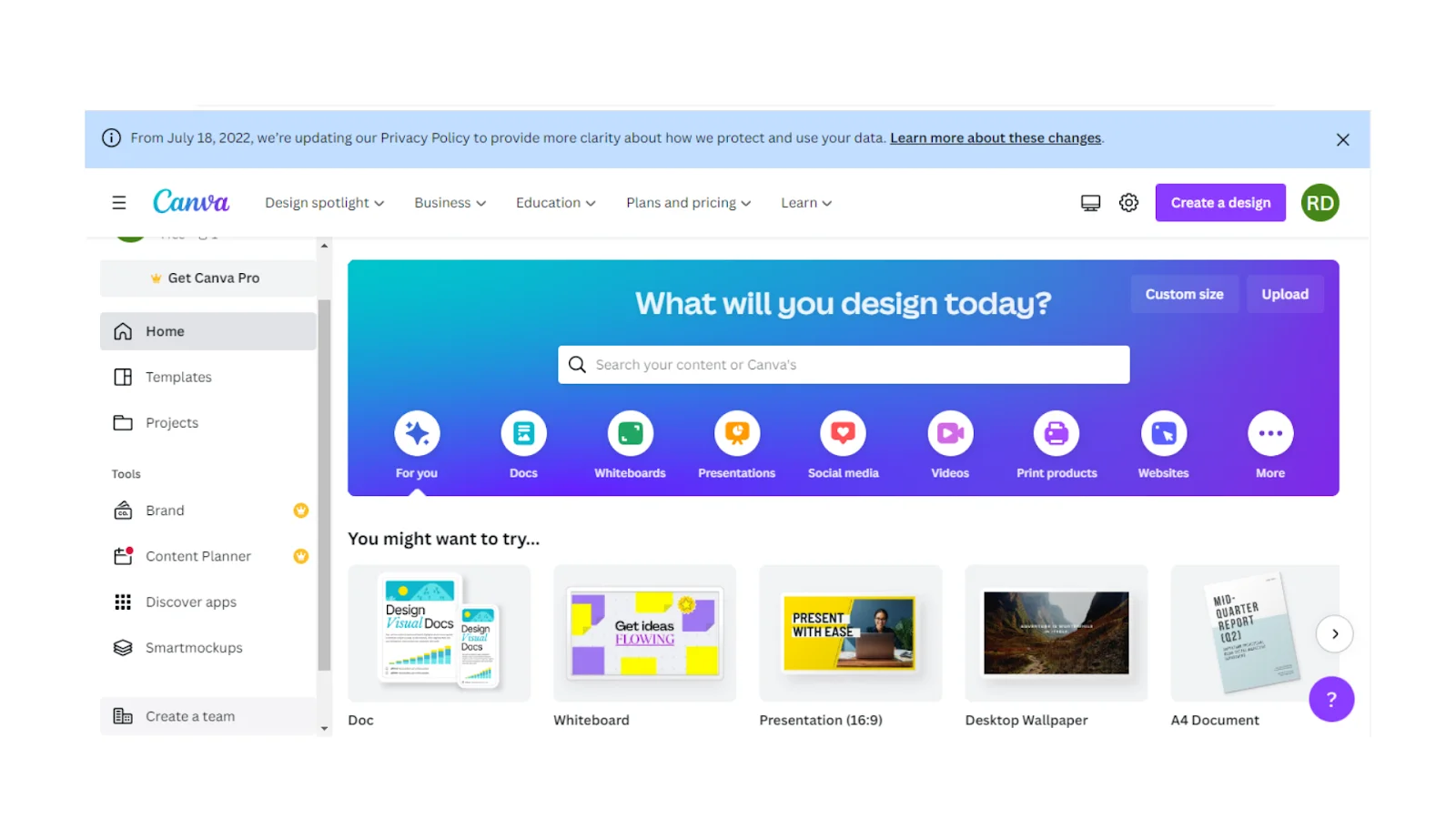 Image from Canva
A few fundamental animation features have just been added to the well-known online design tool Canva. By selecting one of the app's six animation types, you may download your graphic designs as a GIF or movie.
The app also allows you to resize your designs and add text captions. Canva's animation features are simple yet effective, and they can be a great way to add some pizzazz to your designs.
If you're looking for something more sophisticated, though, you'll need to look elsewhere. But for quick and easy animations, Canva is definitely worth checking out.
Features:
Add text and shapes to your design
600+ professionally-designed graphics and icons
Import multiple photos for each project
Unlimited layers in each project
Change design orientation from horizontal to vertical
Pricing: Canva has a free and paid subscription, with the paid subscription starting at $12.99/month or $119.99/year.
Pros: Canva offers graphic assets that can be purchased and used to add animation to images.
Cons: Canva has very limited animation capabilities, even in the paid version.
Staying productive can be hard with so much digital clutter. That's why we created Eagle App! Stay Productive with Eagle!
11. Animatron Studio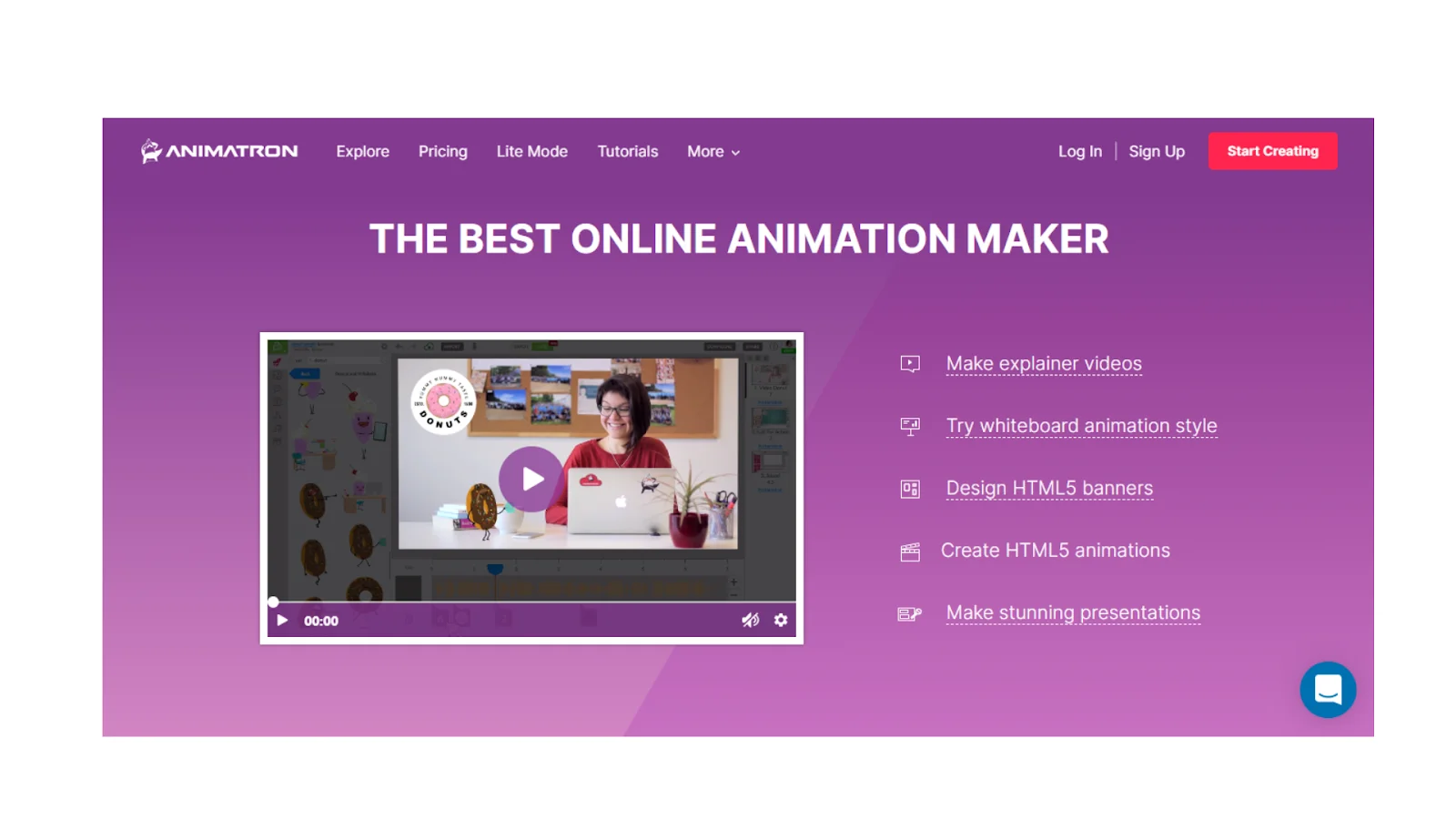 Image from Animatron Studio
If you're looking for an animation software that's packed with features, Animatron Studio is a great option. It comes with a huge gallery of pre-animated elements and templates, so you can create explainer videos, HTML5 banners and ads with ease.
And if you want to customize your creations, there are plenty of options to choose from – you can even change the expressions on the characters. If you need a less powerful version, Animatron Lite is also available.
Features:
Thousands of pre-animated creatures, objects, and more
Opportunities for extensive customization
The ability to import, place and edit your own graphics
Built in voiceover features to add narration (Capable with IOS device versions 7.0 or greater)
Real-time collaboration and comments for easy feedback sessions with teammates
Built-in tutorials for first time users (This option is also available from the Help menu)
Pricing: Animatron is a program that has a free "Lite Mode" with limited features, and paid plans that start from $30/month.
Pros: Animatron has sliders that allow you to control various aspects of each character or object's appearance, and you can download your designs in popular formats like PNG or GIF.
Cons: The interface for Animatron can be glitchy, and there are no free stock videos available to use with the software.
12. Visme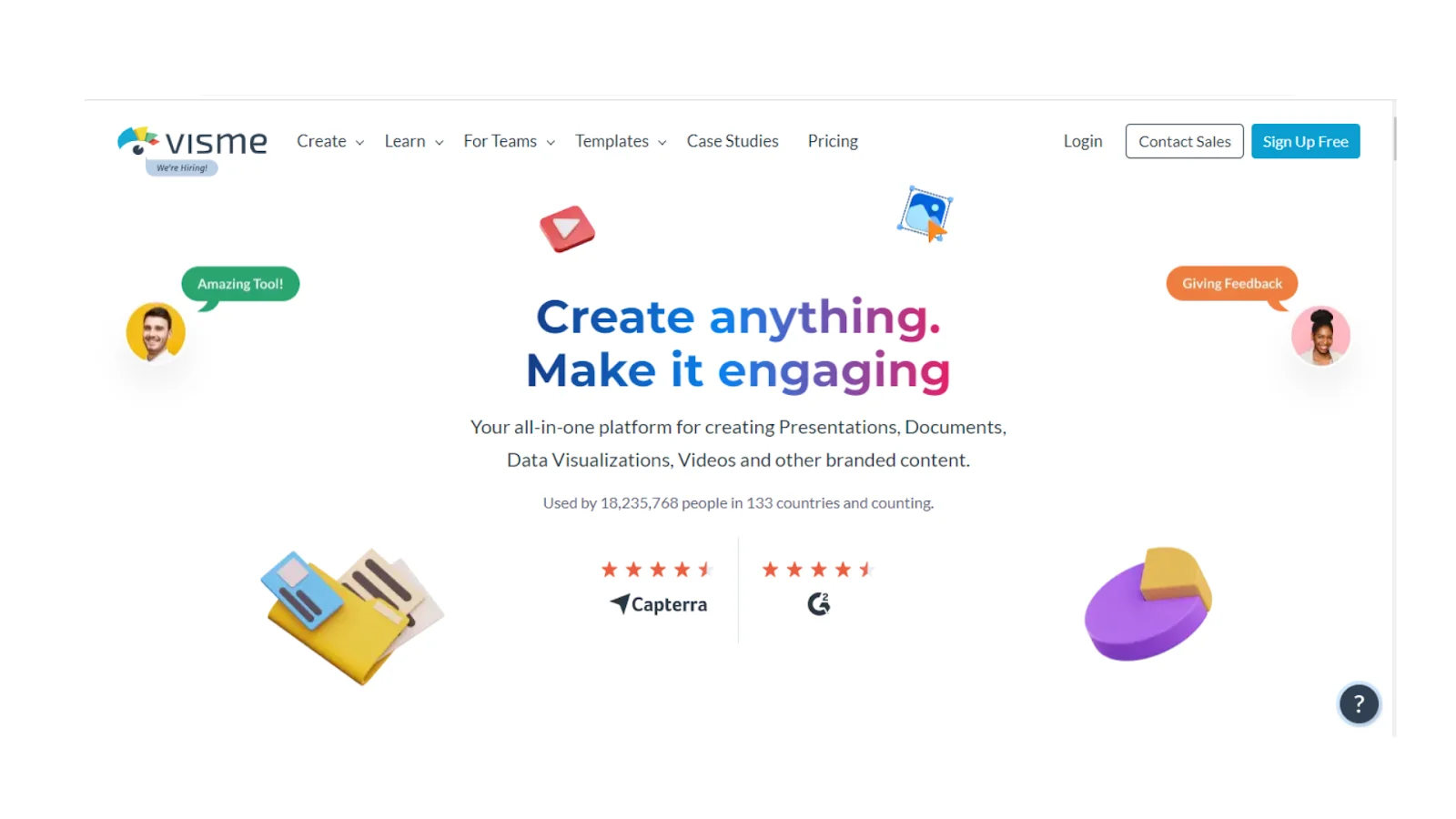 Image from Visme
Designing visuals for social media, ads, banners, presentations and other communications doesn't have to be complicated or expensive. With Visme, anyone can create stunning animated visuals using a library of premade templates, characters, illustrations and gestures.
Just select the template that best fits your needs, add your text and images, then animate your design to bring it to life. It's that simple!
Plus, Visme offers a wide variety of customization options to help you create truly unique designs that stand out from the crowd.
Features:
Fully integrated platform-Real time collaboration
Save projects to repository
2D and 3D interactive animations
Zoom in/out for 2D presentations
Shortcut keys for faster work
Customizable pre screen transitions
Pricing: Visme has a free plan with limited features and paid plans that start from $15/month per user.
Pros: The Visme design tool is great for both non-designers and designers. It has animation and interactivity features, and it comes with millions of free graphic assets.
Cons: Visme is a design tool with a variety of customization options, but it can be tricky to learn.
13. Poster My Wall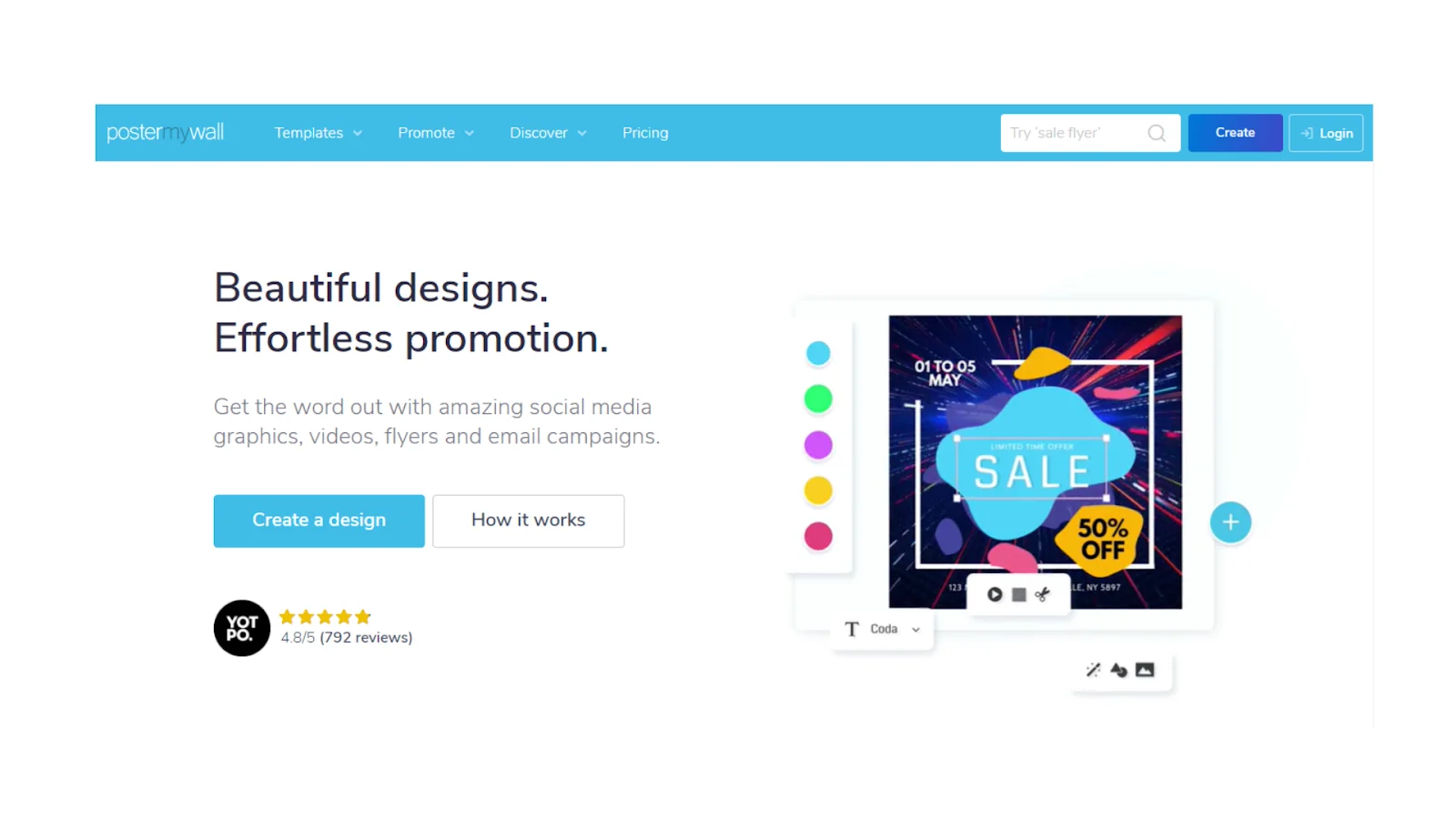 Image from Poster My Wall
Introducing Poster My Wall - an animation software that is both straightforward and easy to use. With no need to sign up, you can start editing a template right away.
From promotional posters and graphics to videos, Poster My Wall has a large library of templates and stock videos to choose from.
Plus, you can download your designs as high-quality videos in 4K or Full HD resolution. Or, if you're in the US, you can send them off for printing.
Features:
Thousands of animated isometric video templates and catalogs
Broad range of business, social media, and relationship messages
Easy navigation and fast streaming
Quick start step-by-step tutorials
Pricing: Poster My Wall offers free and paid plans. The free plan includes free social media downloads. Premium plans start at $9.95 per month.
Pros: Poster My Wall lets you create animated videos in high quality, without having to sign up.
Cons: The free plan for Poster My Wall only allows for limited animation features. This means that you won't be able to create as many complex or detailed designs as you could with the paid versions.
14. Biteable (Disable)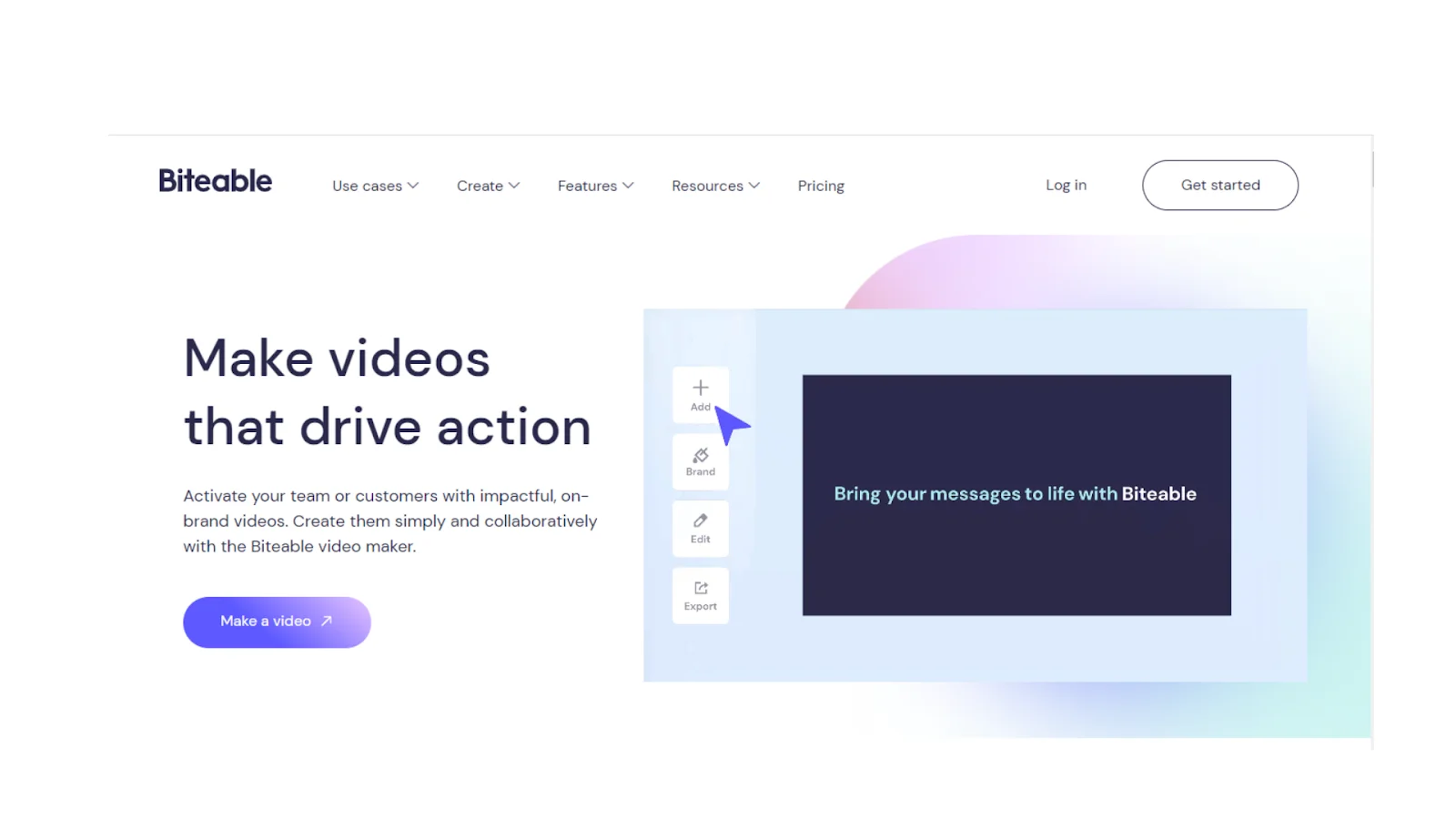 Image from Biteable
If you're looking for a quick and easy way to create animated videos, Biteable is a great option. With its pre-made templates, you can easily edit and customize your videos to fit your needs.
You can also access thousands of stock footage clips and scenes to create entirely unique videos.
Plus, with its collaboration features, you can share your projects with teammates and get feedback in real-time.
Features:
View available professional video templates
Thousands of stock video clips and animations are available.
Add audio tracks from a huge library or from your catalog
Share videos in up to 4K resolution with privacy settings
Download full-frame HD MP4 video project files
Pricing: Biteable offers a free plan with limited features, as well as paid plans starting from $49/month.
Pros: Biteable is a video creation platform that helps users create marketing videos, including explainers and demos. Users have access to thousands of stock footage clips to create unique videos.
Cons: Biteable's free plan only allows you to download videos in MP4 format, and those videos come with a watermark.
15. Pencil 2D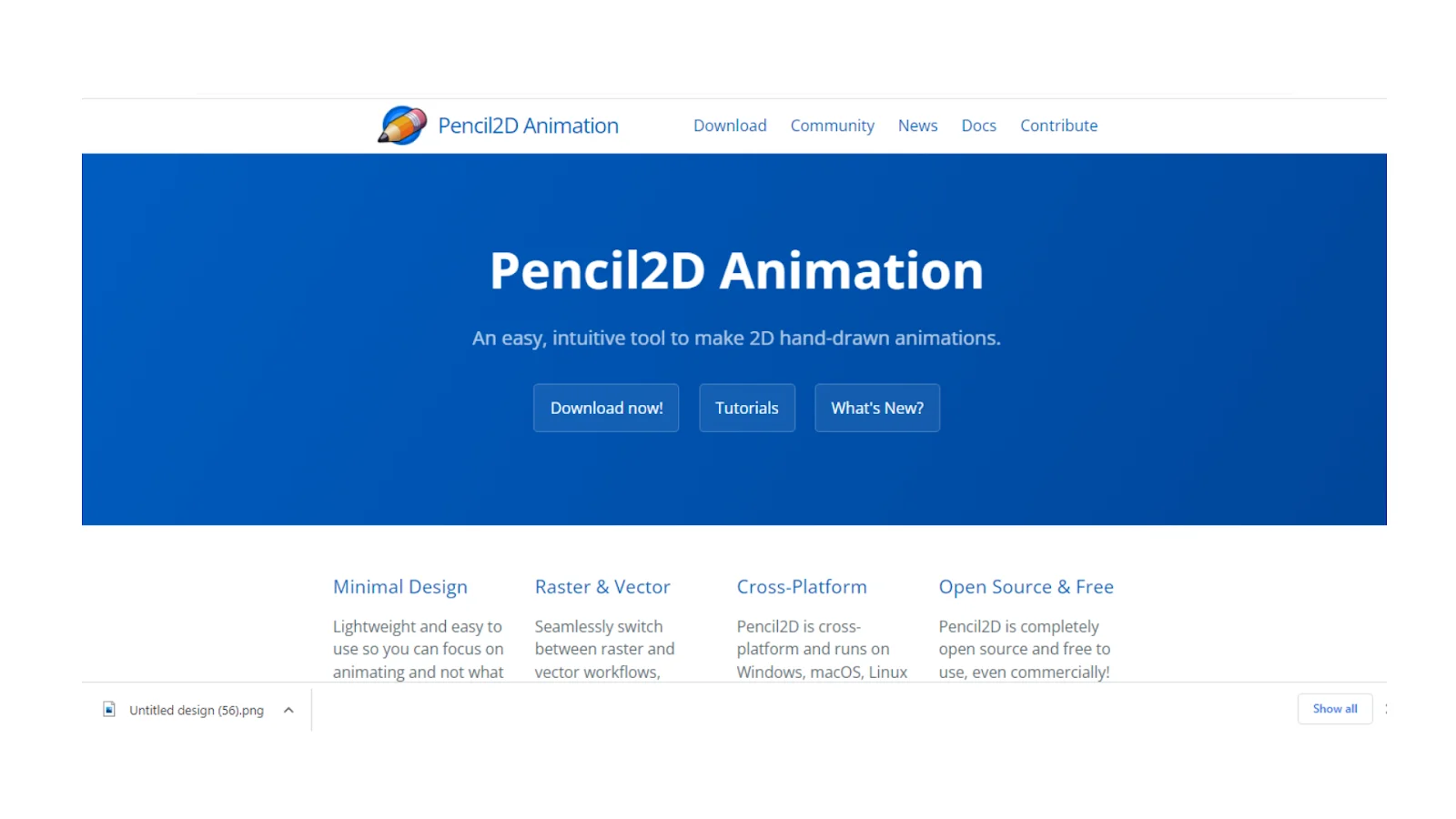 Image from Pencil 2D
Pencil2D is a great open-source animation software that allows you to create 2D animated characters using vector drawing tools and traditional animation techniques.
It's cross-platform, so it works on Windows, MacOS and Linux. Plus, it has a really intuitive interface that makes it easy to get started with.
Features:
Graphic design software to create professional vector graphics and illustrations
Keyframing lets you animate your work
A wide array of versatile drawing tools that allow you to precisely adjust your vector drawing with softening, invert colors, and adding textures to the atmosphere or clothes
Export formats: JPG, PNG, AI, PSD, PDF formats.
Pricing: Free
Pros: Pencil 2D is a free to use, cross platform online animation program used to create traditional hand-drawn animations. It has a simple and minimalistic editor.
Cons: Pencil 2D is good for simple drawings, but not for complex or modern animations.
Check out our blog for all the must-read books for animation design and start honing your animation design skills today!
---
FAQ
What are some benefits of using online animation software?
There are many benefits of using online animation software:
One benefit is that it can help you save time by automating the process of creating animations. This can be especially helpful if you need to create a large number or series of animations.
Another benefit is that online animation software can help you create professional-looking animations. This can be great for businesses or individuals who want to create high-quality animations for use in marketing materials or other public-facing content.
Finally, online animation software can be a cost-effective solution for creating animations, since you typically only need to pay for the software once rather than purchasing expensive animation equipment.
What is the Best Free Animation Software?
There are many free animation software programs available online. Some of the most popular include Pencil2D, Animaker, and Blender. Each program has its own set of features, so it is important to choose one that best suits your needs.
For example, if you are looking for a program with advanced drawing tools, then Pencil2D would be a good choice.
If you want a program that is easy to use and comes with a wide range of templates and characters, then the free Animaker download would be a better option.
Lastly, Blender is a good choice if you are looking for a program with powerful 3D modeling and rendering capabilities.
---
Conclusion
With so many different online animation software programs out there, it can be difficult to decide which one is the right fit for you.
However, with this complete guide, we hope that you have been able to narrow down your choices and determine which program is best suited for your needs.
Whether you are an amateur animator looking to hone your skills or a professional who wants to create more engaging visuals, there's bound to be an online animation tool perfect for you. Get creative and start animating today!
Now's the perfect time to stay productive even while working from home - Eagle App is here to help! Save Your Animation Ideas with Eagle!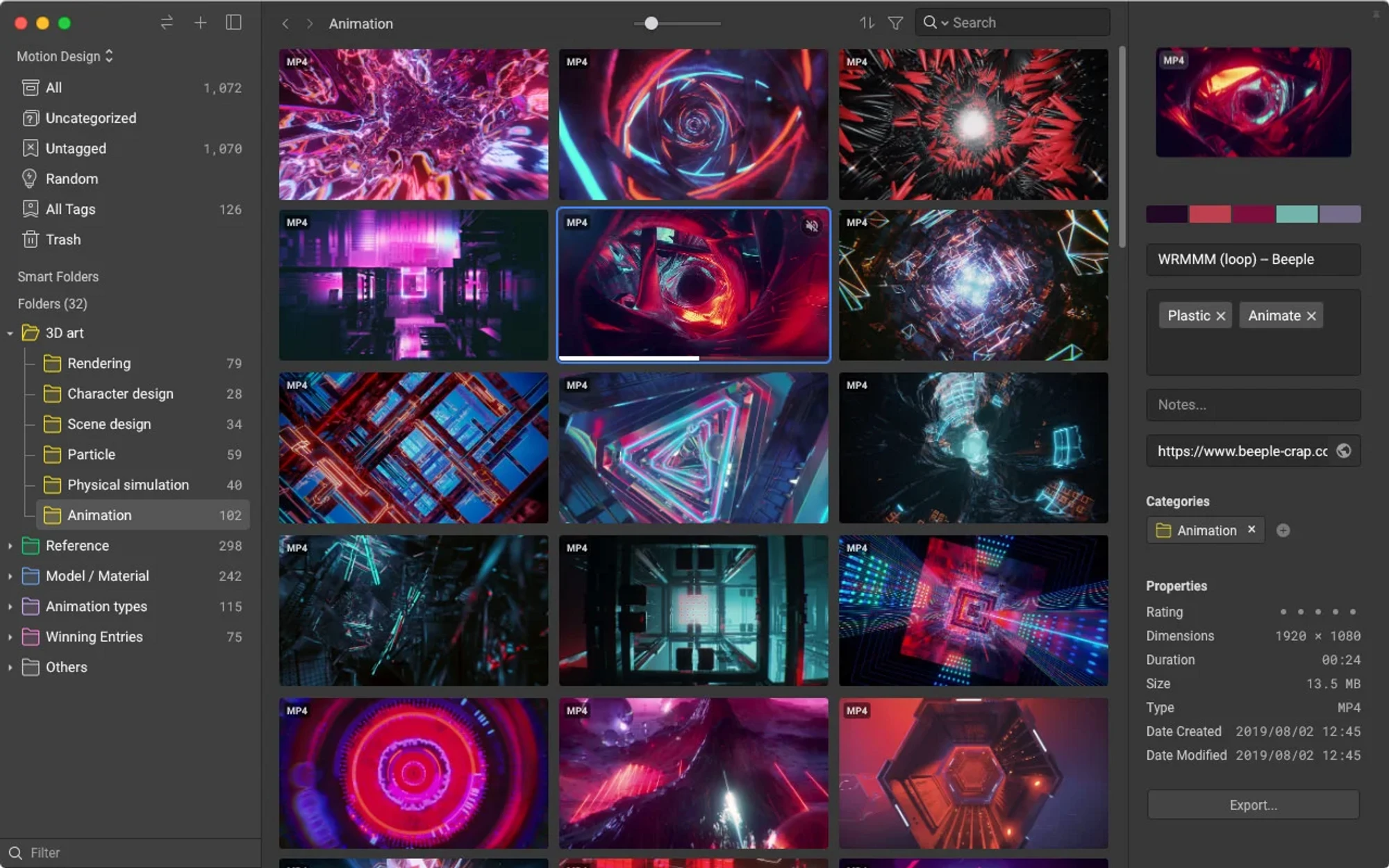 Image from Eagle