Top 15 Image Tagging Tools to Boost Image Management 2023
Does it annoy you to spend too much time looking for a specific image?
Searching for every keyword you can think of, looking through every folder, and yet you still can't find the image you're looking for.
If you had an image tagging tool to leave tags on your assets, you'd no longer have this issue!
Image tagging tools streamline the process of finding image files so you can spend less time looking through a million jpegs and more time on your design work. If you want to learn more about Image Tagging, you can find out what it is, how it works in our FAQ.
So, Let's get to know these 15 great image tagging tools now!
---
Top 15 Image Tagging Tools for Easier Image Management
1. Eagle App — Your Best Image Tagging Tool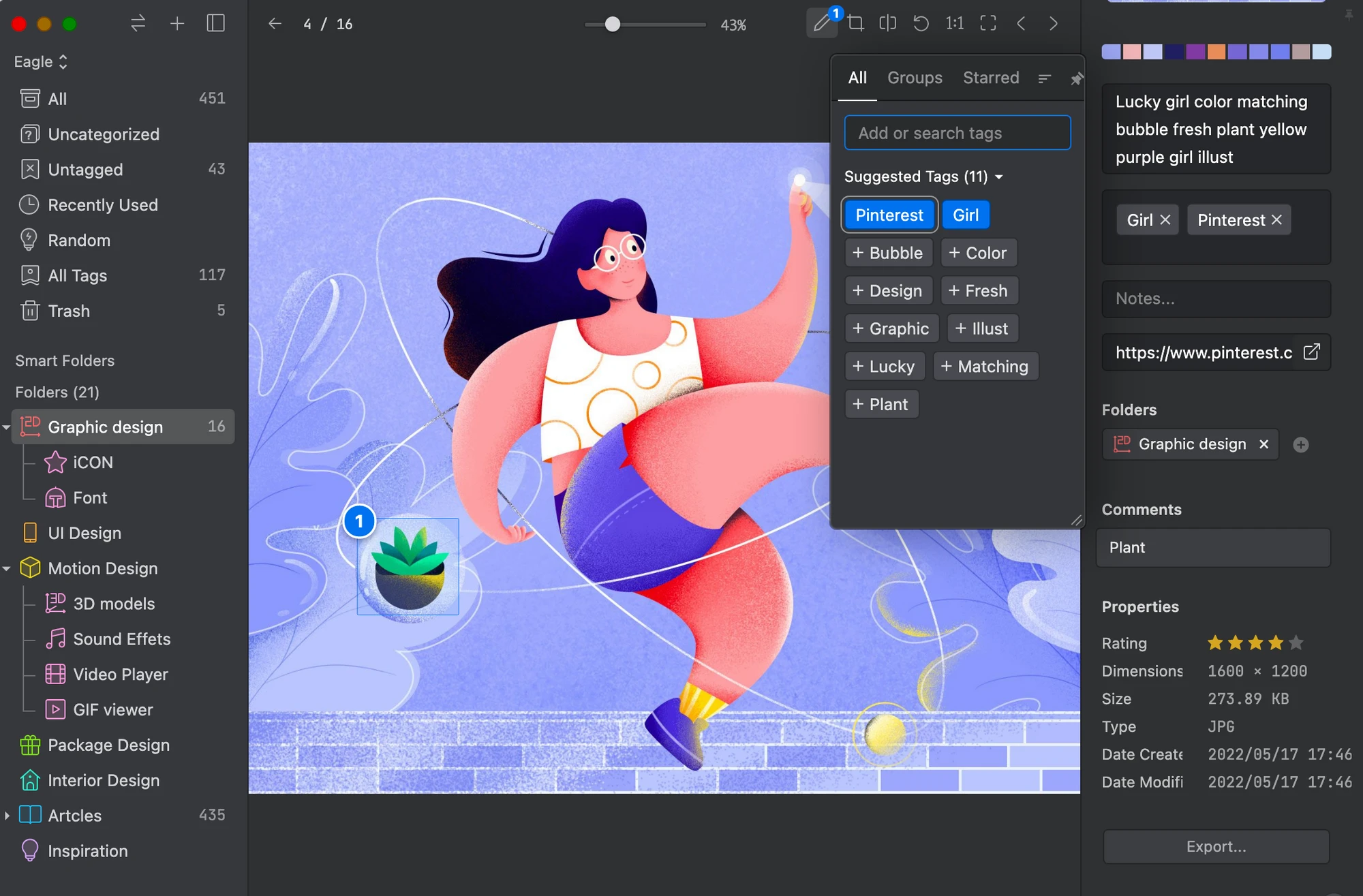 Image from Eagle — Image Tagging

Image tagging is one of Eagle users' favorite features!
With the comprehensive tag management of Eagle, quickly finding an image you need in a pinch is not difficult anymore. It can help easily add tags to all your image libraries and other up to 90+ types of formats.
If you have no idea of which keywords to put in the images, Eagle even provides a list of suggested tags for you, or you can also use auto-tagging to boost your work efficiency!
Not only does Eagle help you manage images by tags, but it also allows you to provide a powerful organizing system to help you effectively manage, give annotation, search, and browse. Try Eagle now!
Key Features:
Quick Search for tags
Suggested tags (as picture above)
Add same Tags to multiple images at once
Except for Tags, you can also add notes and ratings, or write annotations on images
Provide the managing and organizing features for tags to allow more efficient sorting.
Create Tag Groups to organize tags and customize the colors to save time on searching
Pricing:
Free 30-days trial
US$29.95 /license. Each license can be used for 2 devices with FREE updates for life.
Platform: Desktop for macOS, Windows
---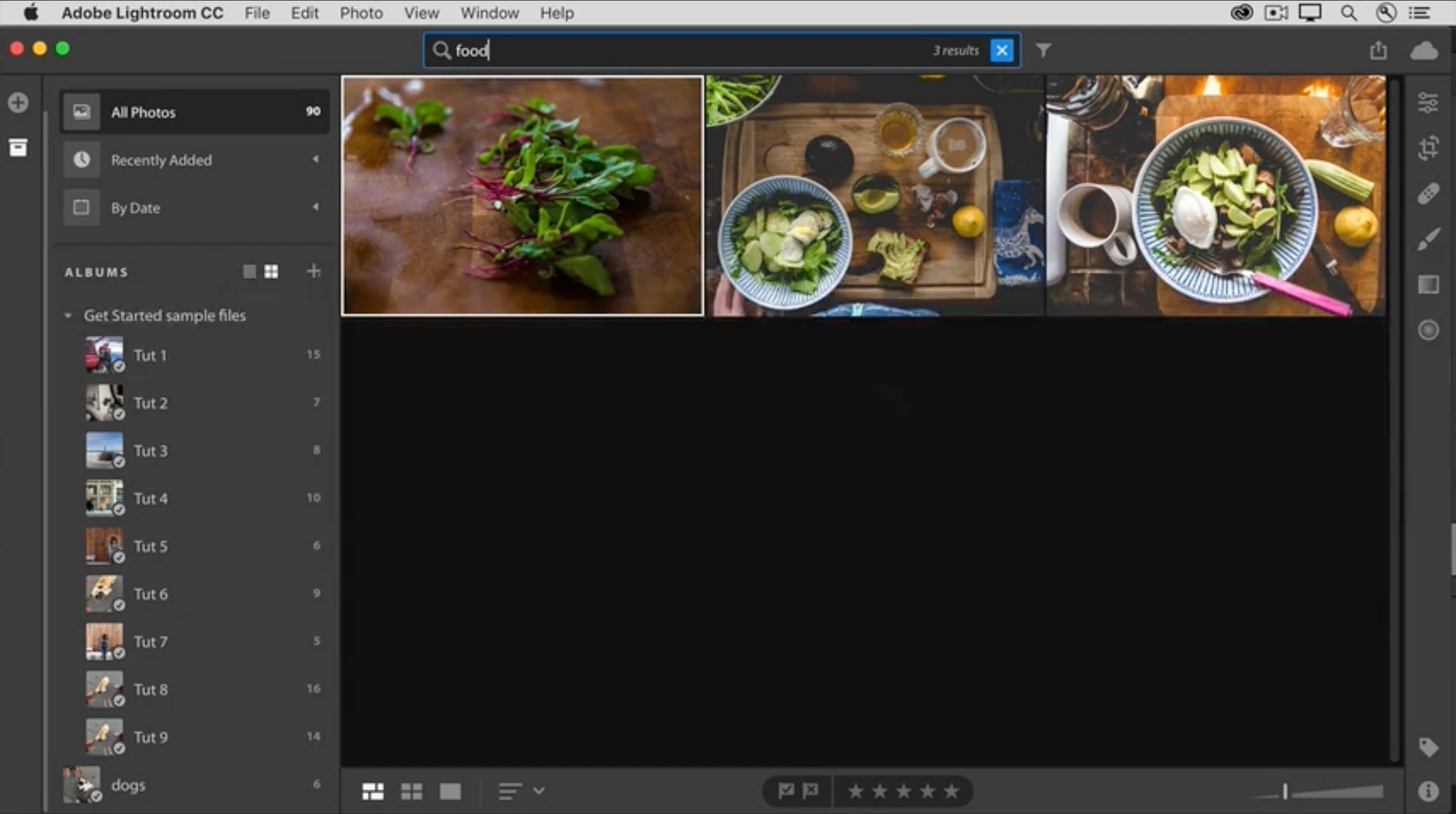 Image from Adobe Lightroom

From the makers of Photoshop, Adobe Lightroom is well known for its editing tools, while it is also one of the best cloud storage options for image tagging. This image management software offers more than tagging as it allows you to resize, edit, organize, store, and share your images across devices.
Adobe Lightroom offers auto-tagging to add tags in a faster and easier way. Its smart tagging system is built on Adobe Sensei, which leverages AI and machine learning to understand the image and provide relevant and descriptive tags. However, a monthly price is rather high, so this image manipulation service is more suitable for professionals or companies, or you can try its mobile apps for free!
Key Features:
Use image tagging for custom categories
Find photos by content with auto-tagging
Mark the images by adding tags, ratings, and flags
Adobe Sensei's machine learning can recognize the content of your images for a quick search
Pricing:
Free for mobile devices
US$9.99 /mo or US$119.88 /yr (1TB limited)
Platform: Web, macOS, Windows, iOS, Android, Apple TV
---
3. Pixave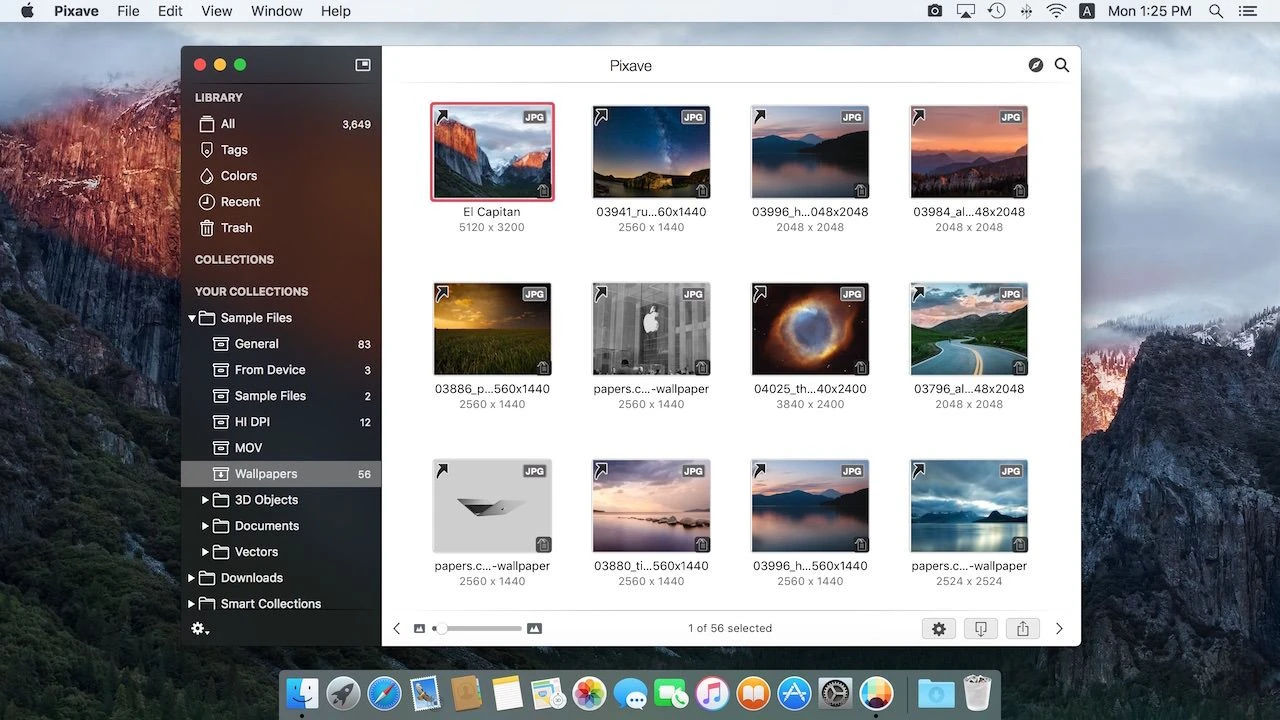 Image from Pixave

If you are looking for a full-fledged image organizer, then Pixave is an excellent choice for you!
Pixave offers many features, one of which is an AI image tagger. Many tags can be applied immediately to a number of images and can be searched for along with their tags. For tagging, simply drag the tag to an image or vice versa.
Besides that, there are many other features such as auto-tagging, export with tags, etc. Not to mention that you can also edit and personalize your tags!
Key Features:
Export with tags
Batch image tagging
Automatic keyword import
Adding and searching for tags
Drag a tag to quickly put in images
Pricing: One-time purchase with US$4.99
Platform: macOS, iPad, and Web browser extension for Chrome.
Want to Learn More about Image Organizer Tools? Come to Take a Look at this Article!
---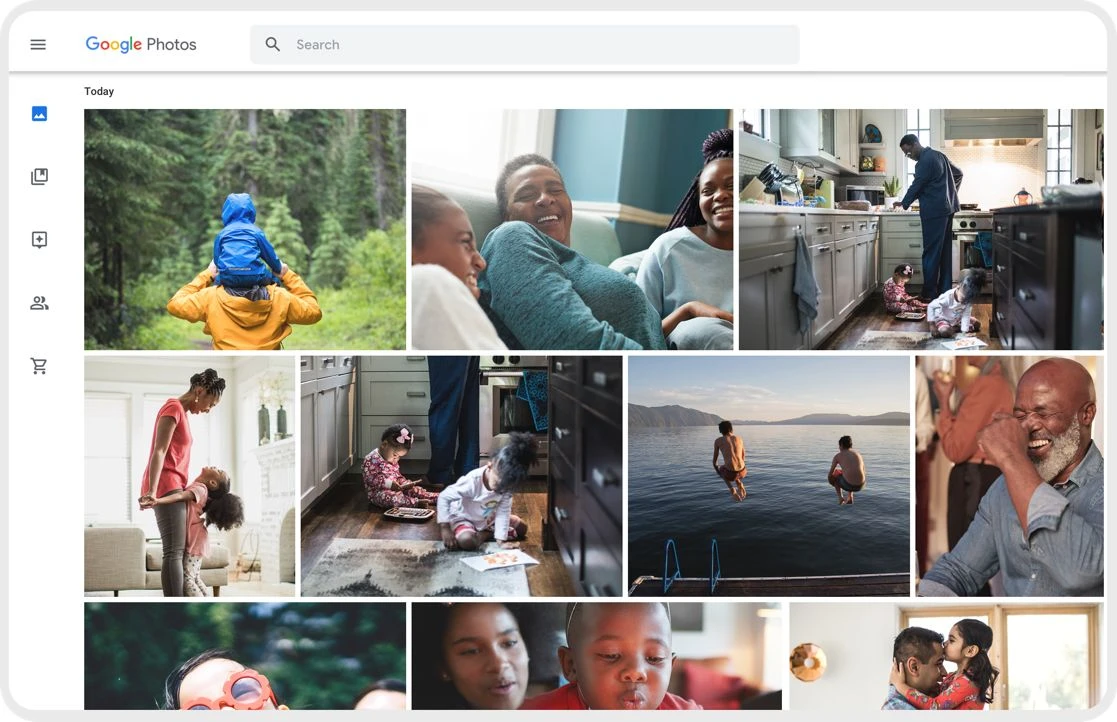 Image from Google Photos

Google Photos is a free and renowned image management software that's great for small businesses and beginners. With Google Photos, you can backup and access photos or any other image references through different devices.
It allows you to search by object and keywords to find image files, and it also has an auto-tagging feature for faces so that you can even organize photo albums by the individual.
Key Features:
easy-to-use
Search by tags (faces)
Auto-tagging for faces
Automatically identify objects in images and the location where the picture was taken
Pricing: Free
Platform: Android, iOS, Web
---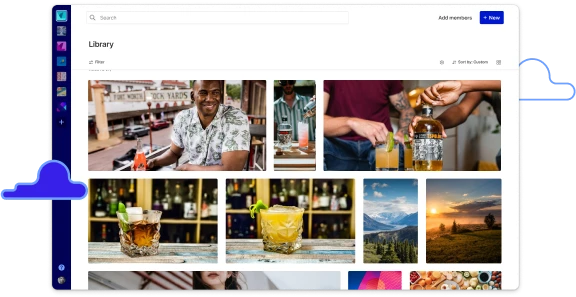 Image from Air

Air allows you to bring all your digital images with different types of formats together in one place. It is a cloud-based image management system that gives you all the features you need to create a centralized workspace for your team.
Air can help you navigate your workspace like a search engine through its Smart Search. With built-in features like image recognition and smart tags, you can tag your stock images instantly. Try Air, and you'll never have to waste time hunting for lost images again!
Key Features:
Smart search by keywords in tags
Filters for date, color, file type, uploader, tags, and more
Content-based tags are automatically added to every image
Pricing:
Free
Plus: US$10 per user/ mo
Pro: US$25 per user/ mo
Platform: Web, iOS, Android, macOS, Windows
---
Improve efficiency! Quickly search digital assets by tag, color, file type with Eagle!



---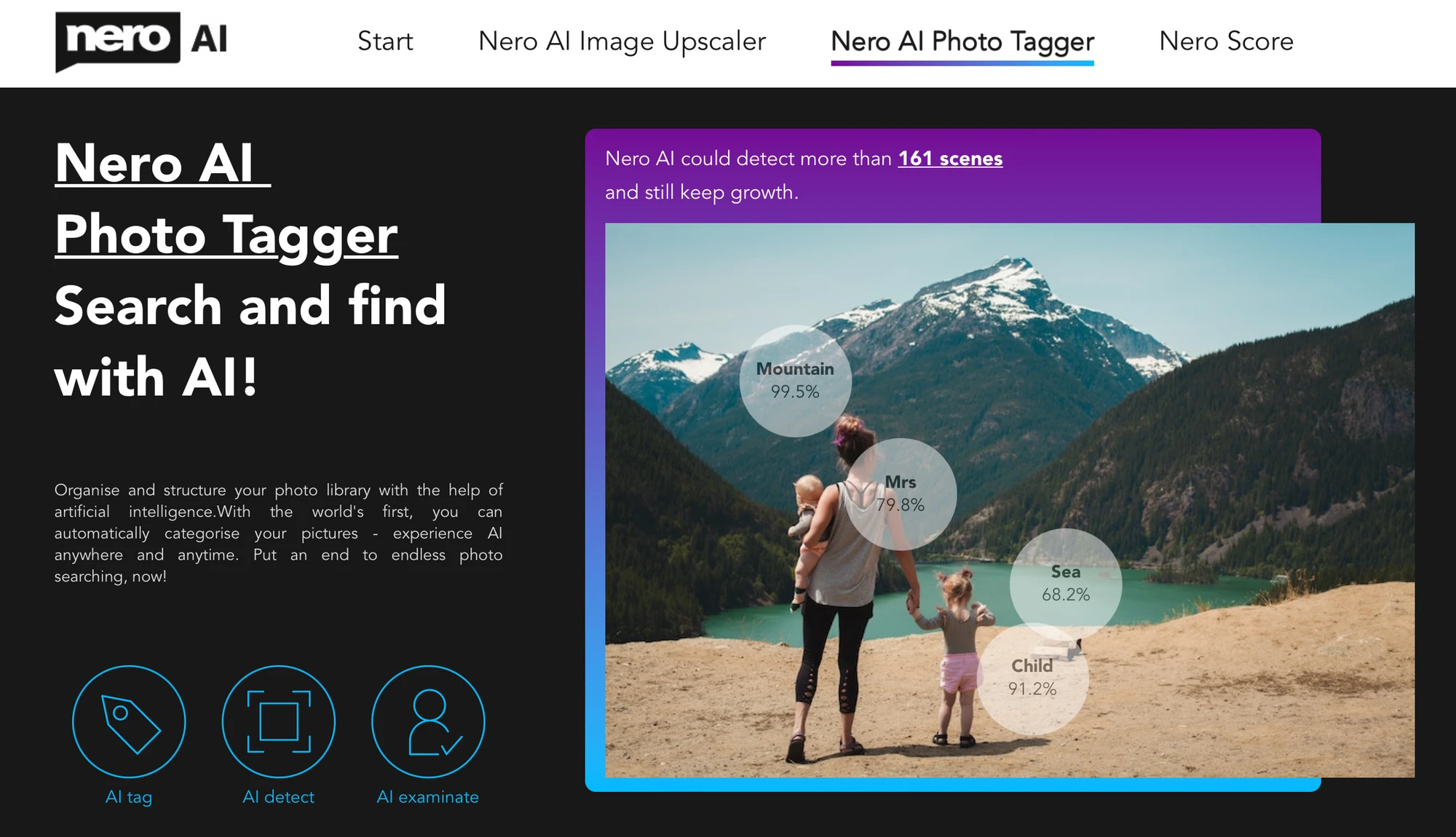 Image from Nero AI

Nero AI is an online tagging software that makes use of AI-based technology to automatically identify the various elements found in images and give tags or keywords to them. It provides fairly accurate tags, especially for landscape images.
It aims to simplify how you store and manage your image library based on content tagging and categorization in a simpler, more efficient, and more precise way. Put an end to endless image searching with Nero AI now!
Key Features:
AI tag
AI detection & categorization
Recognize the keywords in your images online
Identifying images based on more than 160 categories
Pricing: € 29.95 (Around US$31.71)
Platform: Web, Windows
---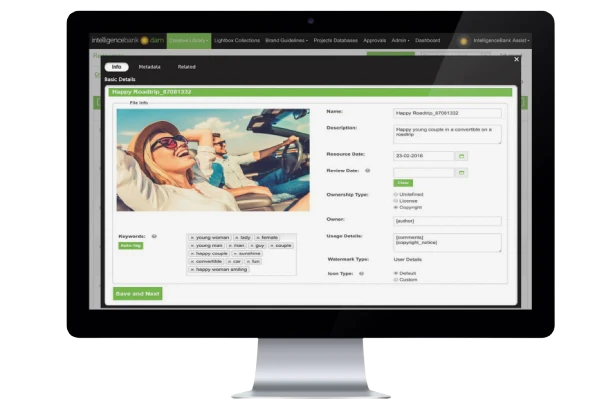 Image from Imagga
Imagga is for you if you want more recognition-type features other than image tagging!
It offers features such as face recognition, automated moderation on Not Safe For Work content, visual search, and more. On top of that, Imagga can also automate all your image tagging process by assigning contextual tags to images and videos, which increasingly simplifies your workflow.
Key Features:
Auto-tagging
Visual Search
Providing cropping tool
More than 3000 pre-defined tags
Image Tagging API can accurately recognize objects, scenes, and concepts
Pricing:
Free
Indie: US$79/ mo
Pro: US$349/ mo
Platform: Web, macOS, Windows, SaaS
---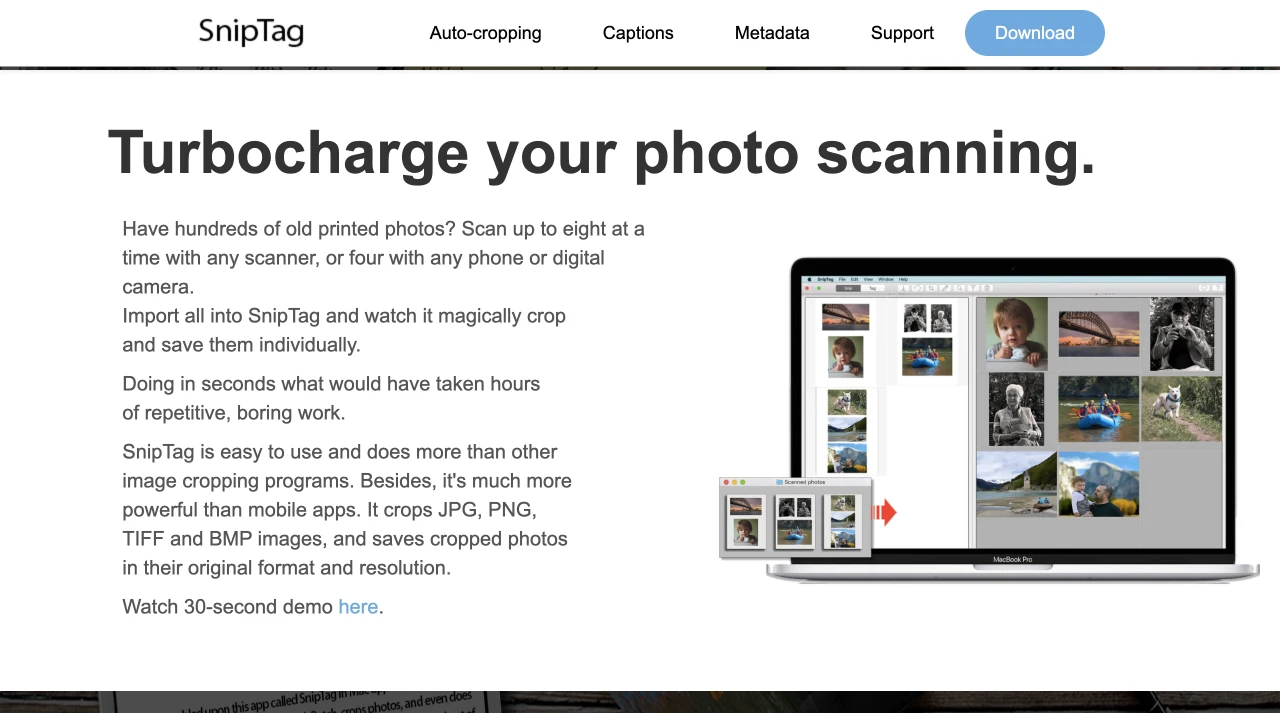 Image from SnipTag
SnipTag is an image tagger software that allows you to add tags to your images as well as metadata. It also has captions and an auto-cropping tool, so you don't have to waste time on simple editing work. You can scan up to eight images at one go and store them all digitally.
Key Features:
Enrich digital photos with captions and metadata
Tag can add captions and metadata to your digital images
Give one image or a whole batch a recognizable name at once
Auto-cropping tool for many types of formats, including JPG, PNG, TIFF, and BMP images
Pricing:
Free, but limiting exports to 2 images a day
One-time purchase: US$21.99
Platform: macOS
---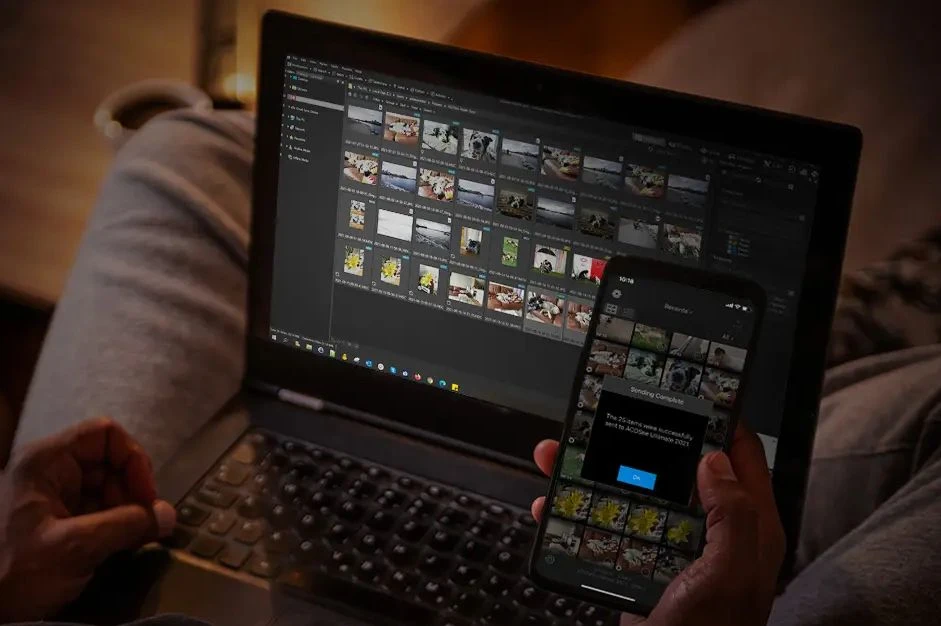 Image from ACDSee Photo Studio

ACDSee Photo Studio is one of the best image management software tools for extensive RAW files, as it offers RAW support for more than 550 digital camera models. The tool allows you to organize your images by adding ratings, hierarchical keywords, tags, categories, location data and customizable color labels and using face recognition and data location features, making it easier to search for the images you need.
Key Features:
Face recognition
Image location detecting
Batch images renaming and resizing
Add ratings, hierarchical keywords, tags, categories, and customizable color labels
Pricing: Free
Platform: macOS, iOS
---
Want to manage images more efficiently, not just image tagging?

With a powerful organizing system, Eagle makes it easier to browse, collect and search!

Whether you want to efficiently organize or search, Eagle can meet your need by adding tags, ratings, comments, and more. Try Eagle now!
---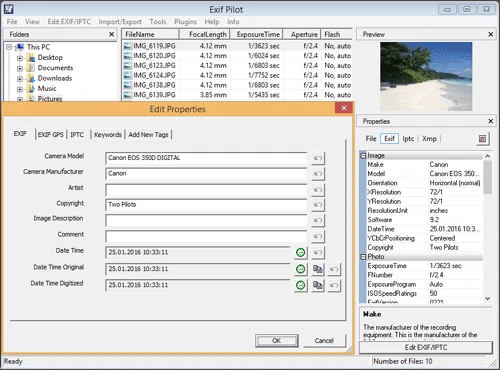 Image from Exif Pilot

Exif Pilot is a free tool that allows you to view, edit, and create EXIF, EXIF GPS, IPTC, and XMP data. You can also use this tool to remove or add EXIF and IPTC tags and clean up your images. While Exif Pilot is a simple program, it gives you what you need to properly tag your images so they are easier to find later.
Key Features:
Choose tags for export
Add, edit, and remove keywords
View EXIF, EXIF GPS, IPTC, and XMP data
Remove EXIF, IPTC tags, and clean up all metadata
Pricing: Free
Platform: Windows, macOS
---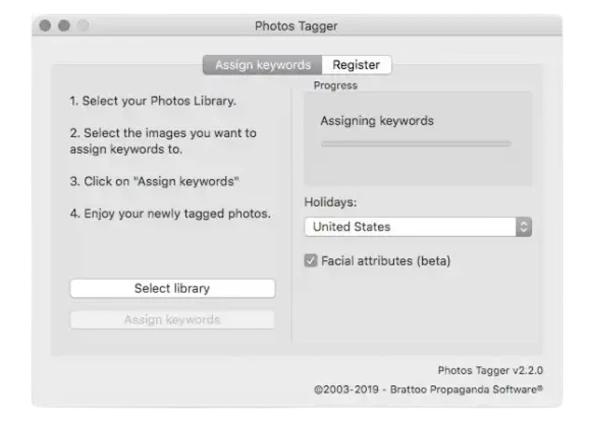 Image from Photos Tagger

Photos Tagger is primarily for image tagging by extracting the hidden metadata from the album of your iPhone or Macbook database and assigning it to your images as keywords. It will make it much easier to find and organize your images, and help you simply set up smart albums based on exactly the things you want.
Besides that, it has also added extra features. For instance, you can get information about the people appearing in your images online or even get date and time information.
Key Features:
Extracts GPS information like nearby attractions, streets, cities and countries from images
Extracting information from images, including date, people, color
All extracted information is assigned as keywords to your images
Pricing: One-time purchase for US$ 7.95 with free updates
Platform: macOS
---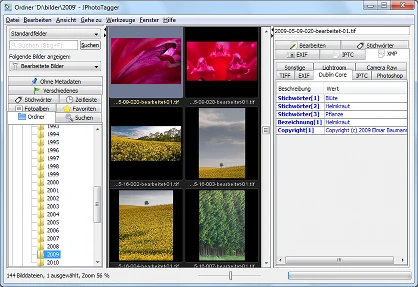 Image from JPhotoTagger

JPhotoTagger has the design of the old Windows apps that used to be there with Windows XP. It is a simple design that can be picked up by anyone regardless of expertise level. With this application, you will be able to find your images through tags, keywords, metadata, and even descriptions. In addition, you can even use this tool with apps such as Photoshop Lightroom, giving you extra options.
Key Features:
Identifying duplicate images
Integration with Adobe Photoshop Lightroom
Search by tags, keywords, descriptions and metadata
Adding or editing tags through automatic keyboard input completion
Pricing: Free
Platform: macOS, Windows
---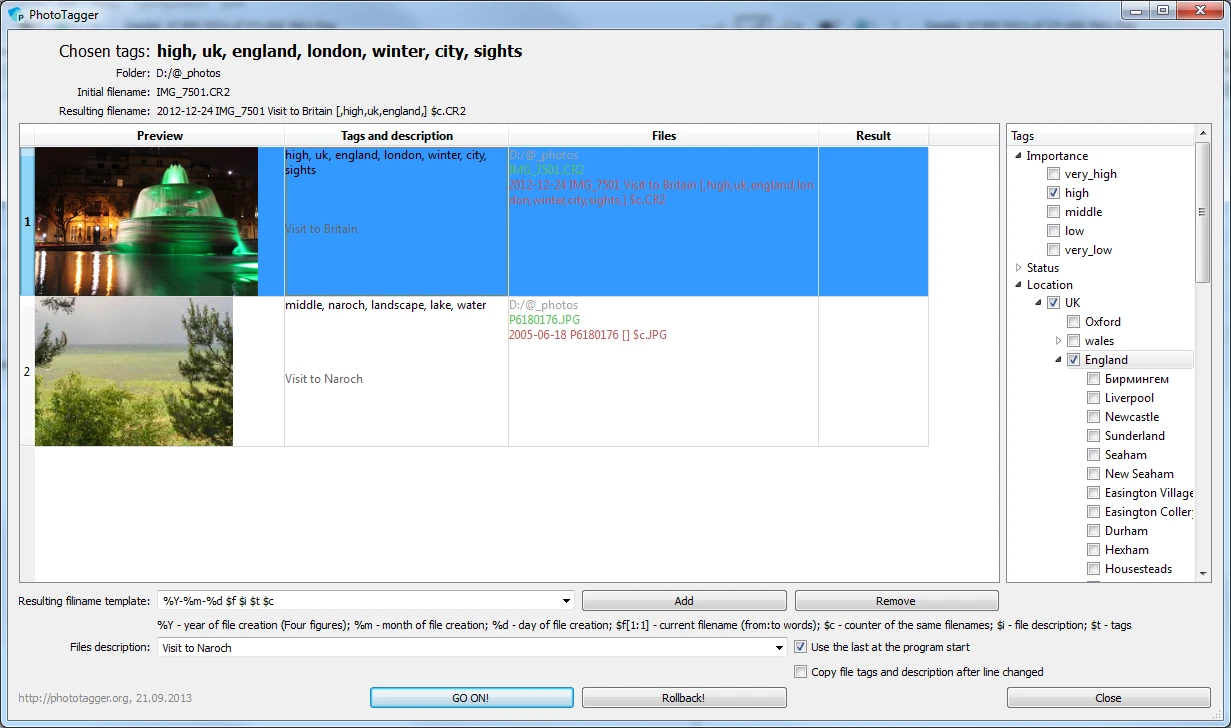 Image from Photo Tagger

Photo Tagger is an image tagger tool that was converted into free software after the developers received a ton of praise. It takes a unique approach to image tagging, by saving labels as file names instead of metadata or descriptions.
It allows you to assign tags to images by choosing them from the tag tree that you create and manage yourself. If you assign a tag to a photo, all its parent tags will be included as well. For example, if you select the 'son' or 'daughter' tags, the photo will immediately be assigned the 'family' Tag. The tag tree allows you to be flexible with tags without duplicating files. Using the tag tree also enables you to quickly find the tags you need.
Key Features:
Managing tags efficiently with Tag Tree
Arrange all types of files, not just images
Select multiple files and add any tags to them all in one go
Saving tags in filenames rather than in metadata or databases
Pricing: Free
Platform: Windows
---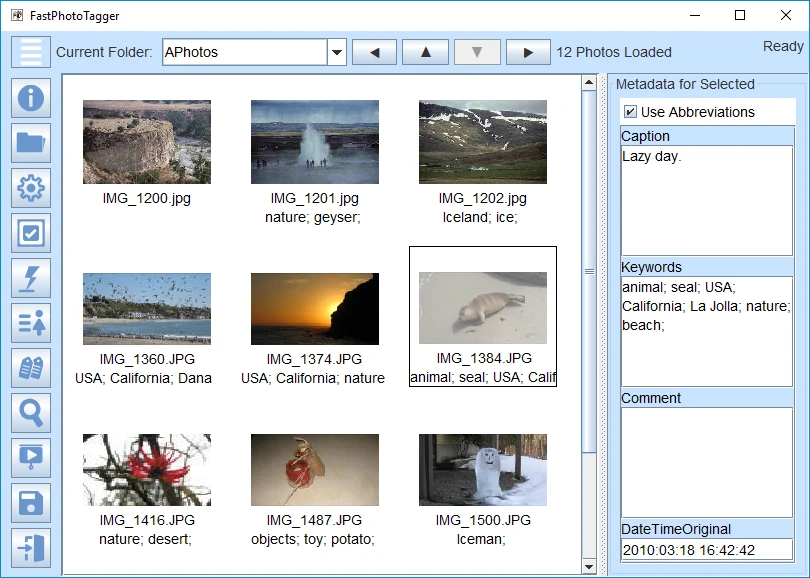 Image from FastPhoto Tagger
FastPhotoTagger has a very simple design and website. However, the specialty of this tool is that it focuses more on metadata and can find images through metadata faster than your usual image tagging tool.
It is available on PC desktops as well as on Android and supports a wide variety of image file formats such as WebP, RAW, GIF, and so on. As for metadata, you can work with fields such as XMP, EXIF, IPTC, and more. It even allows you to have hierarchical keywords for your images.
Key Features:
Define hierarchical keywords
Set individual images to have unique tags
Set multiple images to have the same tags
View images and slideshows that display tags as captions
Pricing: Free
Platform: Windows, macOS, Android
---
15. iTag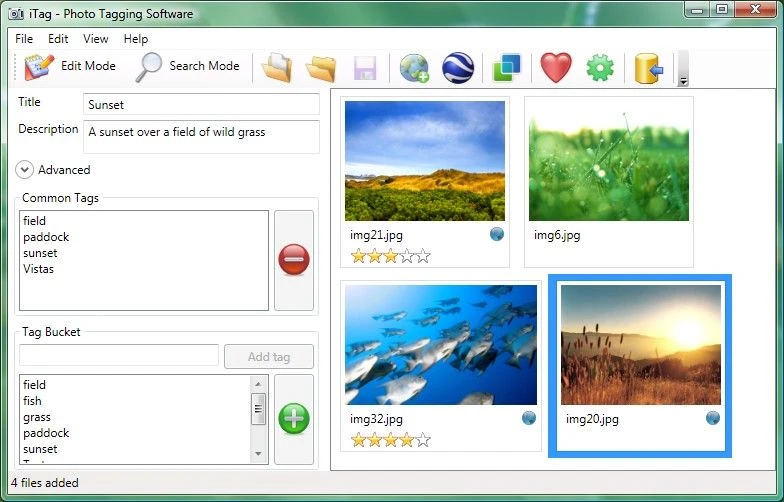 Image from iTag

If you're looking for an image tagging tool for Windows, iTag is also one of the best choices!
iTag offers some professional features, such as being able to embed GPS coordinates to your images and videos as well. It even has various file format support with formats such as RAW, TIFF, and MP4.
Key Features:
Supports JPEG, TIFF, RAW, WMV, MPG, MP4 and AVI file types
Embed image and video files with Title, Description, Rating and Keywords
Geocode your images and videos by embedding GPS coordinates using Google Earth
Search for tagged files with iTag's powerful search engine using keywords, ratings, filename
Pricing: Free
Platform: Windows
---
Conclusion
Image tagging is a really great technique that can help you quickly manage all your image references through tags. Especially for those who need to manage plenty of images, such as designers, photographers, YouTubers, social media managers, etc.
Depending on your requirements, you can choose a tool or software that is suitable for you by its price, requirement system, and major features. Believe that you can find a favorite among them!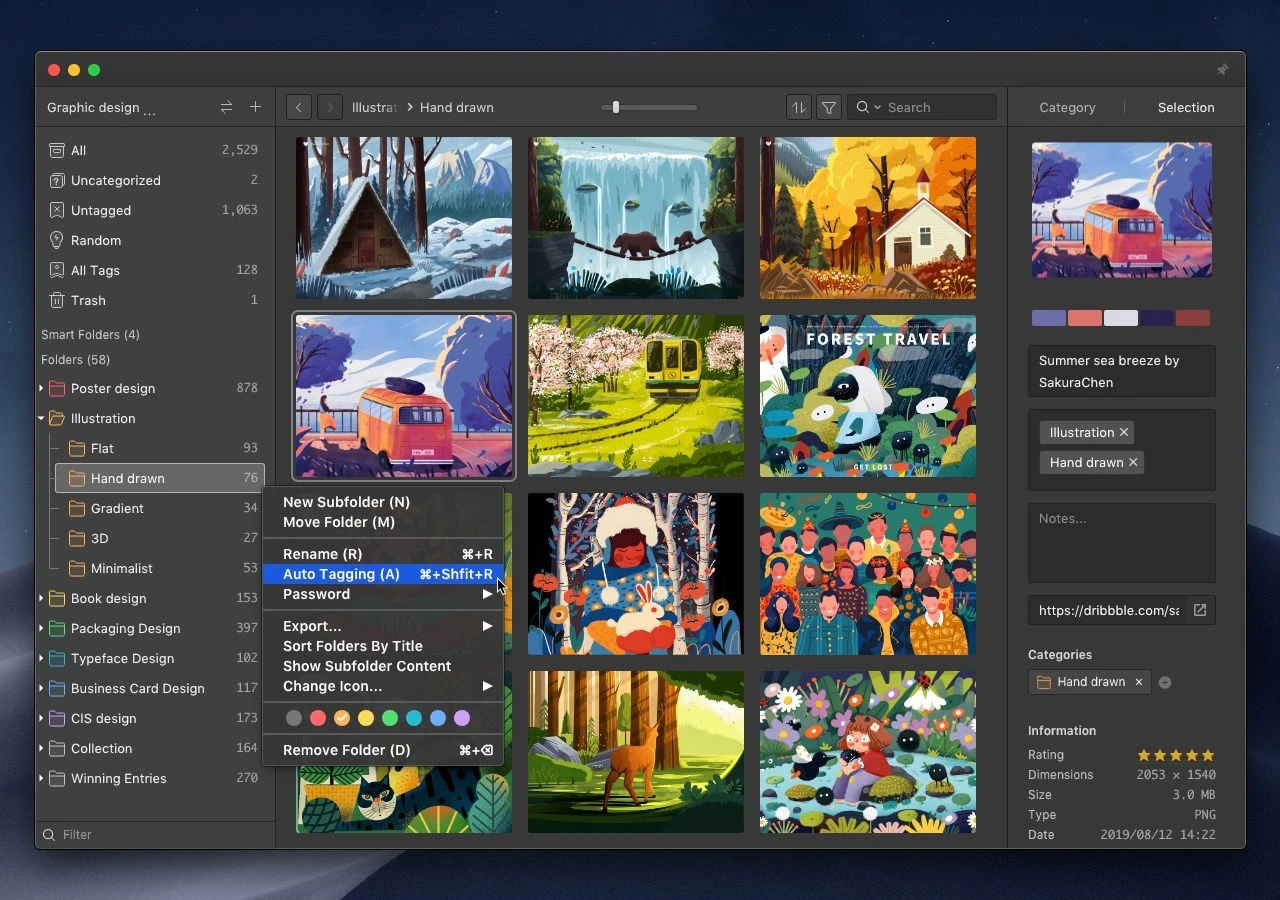 Image from Eagle — Using Eagle's Auto-Tagging to enhance your work efficiency!

Lastly, if you are eager to learn more design information and resources, visit and bookmark Eagle blog to become a better creative professional!
If you are still lacking inspiration and incentives to create something new, feel free to dive into Eagle Community to explore stunning assets shared by thousands of designers worldwide. Let Eagle be your best design assistant!

---
FAQs
From designers, and photographers, to the making of TV programs or even YouTube, a wide variety of businesses have to operate with huge volumes of visual content on a daily basis.
Thus, Having an Image Tagging Tool can help them simplify their workflow by labeling images with useful and relevant keywords, which makes them much more reachable than computer-given names that are difficult to remember.
How Does Image Tagging Work?
The process of image tagging requires it to identify people, objects, places, emotions, abstract concepts, and other attributes that may be related to a visual. They are ascribed to the specific images with the help of predefined tags afterward.
For instance, image tagging tools would place keywords like pasta, restaurant, forks, etc. on an image of a girl eating pasta in a restaurant.
What's the difference between Image Tagging and Annotation?
Basically, there is no major difference between image tagging and image annotation, for both are a way to help you efficiently manage all your image references. However, the former is by adding related keywords, whereas the latter emphasizes recording your ideas, notes, inspiration, and comments, on the images.
Are you interested in Image Annotation Tools? Come to read the following article! Best 19 Image Annotation Tools 2023: Free and Paid
Is Image Tagging The Same as Metadata?
The answer is No!
Though the two are quite similar, they are actually completely different concepts. So, how to differentiate them?
The key is in the name. While keywords are used to describe what's in an image, metadata relies on just data, to fully relay its' content. Metadata is the data embedded in an image that stores information such as pixels, height, and width. Keywords describe exactly what's seen in an image, so it's easier to find for use.
Why do you need an Image Tagging Tool?
An image tagging tool is an integral part of image management because it enables people to quickly search and find among thousands by adding relevant keywords to each image.
This helps your team save time, which is especially important for designers using images from an extensive inspiration and works library. It also benefits those who have to juggle several projects from different clients.